Saint Archer IPA Review: Is This Popular Beer Worth a Try?
Saint Archer IPA is an impressive hop-forward IPA by Saint Archer Brewing Company. This craft beer is refreshing and can be enjoyed by both old and new beer drinkers. If you're eager to try this beer out for the first time, you'll need our review to help you know what to expect.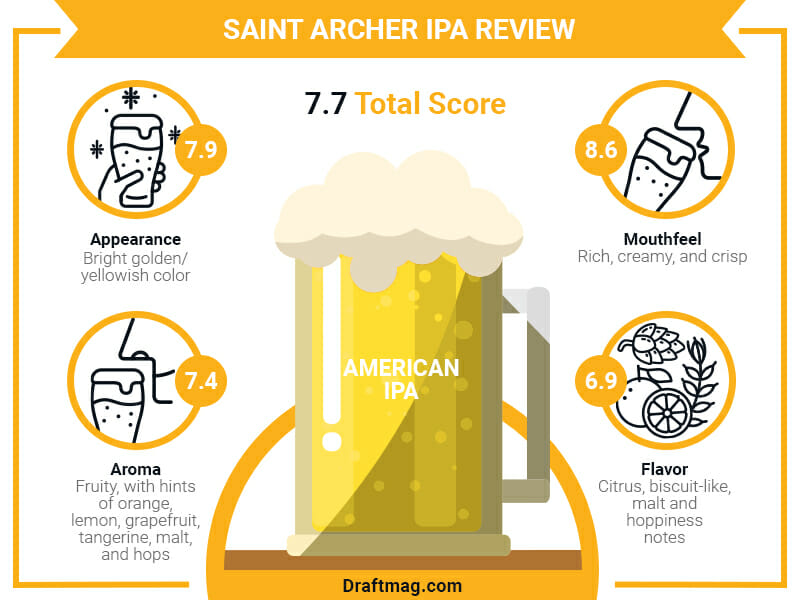 Our beer experts have carefully compiled this review, and they share everything you need to know about this hazy, hop-forward IPA.
Saint Archer IPA Stats
Country
United States (California)
Brand
Saint Archer Brewing Company
Style
American style – IPA
Taste
This beer tastes clean and clear. There's also the presence of the hop-forward bitterness as well as a maltiness that balances its hop character.
Body
Hazy golden/yellow color, with a creamy white foam head and low retention
ABV
7 percent
Flavor and Aroma
Its flavors contain citrus notes and biscuit-like aromas as well as malt and hoppiness.

The aromas are fruity, with hints of orange, lemon, grapefruit, tangerine, malt, and hops.

Serving temperature
45 degrees Fahrenheit
Tasting Notes
Saint Archer IPA Tasting Profile
Saint Archer IPA Review
Our beer connoisseurs engage your senses in this review. We'll discuss everything from how it looks to how it tastes, smells, etc.
– Appearance
From its appearance, this IPA can be described as a hazy IPA. It pours a bright golden/yellowish color that's crystal clear. Once poured into a glass, a rich, creamy white foam head immediately appears and sits comfortably at the top of the class. However, it dissipates quickly but leaves nice lacing on the glass.
The carbonation in this beer is low, so it isn't quite as fizzy. The clear golden color gives the beer a nice and appealing look that makes you eager to take the first gulp.
– Aroma
This beer has an aroma that can best be described as floral. At first, you might be a little thrown off by the fragrant smell that hits you. However, this gives way to a citrusy aroma that resembles a blend of orange or tangerine, lemon, and pine. There's also no denying the combination of malty and hop scent that comes into play as well.
The citrus notes are inviting but not so overwhelming and can be perceived with every gulp.
– Mouthfeel
Like many IPAs, this one is very smooth and easy to drink. Even beer beginners may try out this brew because it has medium to low carbonation and is also medium-bodied.
It leaves a clear and dry finish with a slight burn, or what our beer experts describe as a "warmth" that indicates its seven percent alcohol content. There's also the hop-forward bitterness that slowly creeps up after the initial citrusy and malty flavors.
– Flavor
This IPA has the same flavors associated with its aroma. You can taste the grapefruit, orange, pine, and malty notes well blended with the hop bitterness to produce an enticing mix of flavors. There are also hints of yeast or biscuit-like flavor and a tiny hint of spiciness with each sip of the beer.
– Food Pairings
It is common knowledge that the best meals to pair with an Indian Pale Ale are spicy meals. If you're a huge fan of Asian, Mexican, or even Italian meals, you would enjoy pairing any of these delicacies with a cold glass of this IPA. You can pair this beer with tacos, guacamole, salsas, chicken quesadillas, and many others.
You can also pair it with your favorite Asian meals and grilled dishes. Some of the best-grilled dishes to pair with it are a grilled mushroom burger, steak, grilled salmon, grilled chicken or buffalo wings, grilled lemongrass beef skewers, and so on.
Ingredients
It has fruity notes like grapefruit, orange, and lemon notes. The beer also contains crystal malts, American barley, and a large hop composition. The hops used in this blend include Simcoe, Amarillo, Columbus, Chinook, Citra, and Centennial hops.
Nutritional Facts
This American-style IPA contains 209 calories, 15 grams of grams, 2.8 grams of protein, and zero grams of fat.
Another thing to note is that this IPA is vegan-friendly. Its producers boast that the beer is solely plant-based.
History
This IPA was produced by Archer Brewing Company, founded in 2013, and has won several medals for its distinctive IPAs. In 2014, the company won a gold medal at the Great American Beer Festival. They also won four medals at the San Diego International Beer Festival: two gold, a silver, and a bronze. In 2015, just two years after its establishment, the brewery company was sold to Molson Coors and operated under the Tenth & Blake Group as a subsidiary.
In early 2022, Molson Coors announced that they would stop the production of all Saint Archer products. The manufacturer's company in San Diego is now owned by Kings & Convicts Brewing Co. However, the IPA is still available in bars and liquor stores across the country.
One of their other beer products is the Saint Archer Mosaic IPA, an imperial-style IPA that mainly showcases the quality of Mosaic hops. You can also try out the Saint Archer Blonde ale, which is a Kölsch (German) style beer. There's also the Tusk & Grain Barrel aged Blend Series. This beer series is a mixture of an imperial porter, barley wine, and imperial stout stored in a barrel.
Conclusion
Even though the company was short-lived, this IPA is proof of the brewery's artistry in top-notch craft beers. Here are some points we discussed in this review:
Saint Archer IPA is a product of the now defunct Saint Archer Brewing Company, located in the San Diego area of California in the U.S.
It has a bright golden color, a rich, creamy foam head, and a medium body that is easy to drink.
The aroma and flavors of the beer can be described as citrusy alongside a nice combination of malty and hop notes.
The double IPA beer has a nice taste laced with a thick maltiness and a hop-forward bitterness, all balanced to allow for continuous drinking.
One thing we can say about this IPA is that it is smooth and easy to drink, which makes it a decent beer to try whether you're an experienced beer drinker or a beginner.