Shock Top vs Blue Moon: The Ultimate Clash of Zesty Beers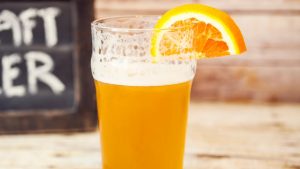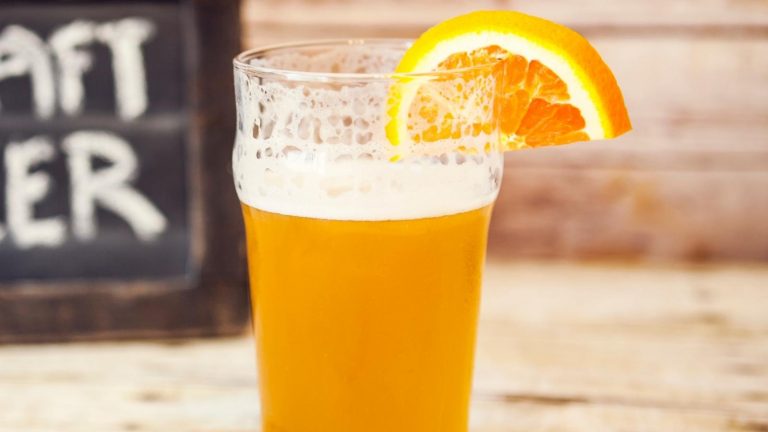 Shock Top vs. Blue Moon: These Belgian-style Witbiers are buzzing in the beer market owing to their tang-to-spice quotient. These beers demonstrate a well-balanced flavor profile of citrus, coriander, and other spices and herbs added to the brewing process.
You are in for a zesty ride if you have an elaborate flavor palate like these two. Read on to decide whether your refreshing summer partner is Shock Top or Blue Moon.

Blue Moon vs Shock Top: Comparison Table
While these two beverages are the pinnacle of refreshments in the beer industry, there has been some debate on who reigns supremacy.
Here is a nine-pointer difference between Blue Moon and Shock Top for you to decide which side you are on:
| | | |
| --- | --- | --- |
| Parameters | Blue Moon | Shock Top |
| Brewing Company | Brewed under the name Blue Moon Brewing Company by the parent company, MillerCoors. | Brewed by Anheuser-Busch Brewing Co. |
| Taste | The Blue Moon taste depicts a good balance between citrus, spice, and malts. It has orange accents with pepper, coriander and sometimes subtle pumpkin flavors with malt sweetness in the background. | Mellow tangy and citrusy notes due to orange, lemon, and lime which are then carried forward by the presence of coriander notes with a spicy backbone. |
| Color | An orange-amber color with a cloudy, billowy head since it is unfiltered. | Shock Top is an unfiltered ale with a light golden color and a white head that quickly dissipates. |
| Aroma | Zesty and fruity with a spicy, maybe cinnamon and wheat aroma. Slight malty sweetness with bordering coriander aroma. | This beer smells as if someone is peeling an orange next to you along with a biscuit-y and malt aroma. |
| Texture | This Ale is on the thick, chewy side with a decent acidic carbonation. It has a foamy, creamy mouthfeel and a bready balance. | The texture of Shock Top is thin, medium-bodied with low carbonation. |
| Aftertaste | Spice and citrus orange sweetness come together at the end to give a crispy and tangy aftertaste. | Crisp with a lingering sweet and sour finish evidently from orange and lime peels. |
| Key Ingredients | This brewing recipe calls for special Valencia orange peel, coriander, and oats. | This Belgian-style Ale is brewed using orange peel, lemon and lime peels, and coriander. |
| Alcoholic Content | Blue Moon alcohol content goes to 5.4 percent with a ranking of nine in IBU. | 5.2 percent ABV with a ranking of 10 in IBU. |
| Calories & Carbs Content | It has 170 calories and 14 grams of carbohydrates per 12-ounce serving. | Shock Top Belgian White has 167 calories and 14.6 grams of carbohydrates per 12-ounce serving. |
What Are the Differences Between Shock Top and Blue Moon?
The main difference between Shock Top and Blue Moon is that Blue Moon is higher by 0.2 when it comes to alcohol content and by two calories compared to Shock Top. Blue Moon has a thick texture with mild acidic carbonation, while medium-bodied Shock Top has low carbonation.
What Is Shock Top Best For?
The Shock Top is best for all the dishes you would squeeze a citrus fruit over like salads, chicken and seafood mills, sushi, eggs, and any vegetable dish. This is because the soft body of Shock Top beer accentuates the citrus flavor dramatically. For instance, Shock Top balanced out ceviche's fast-forward citrus taste.
– Shock Top: All Hail the Citrus Season
With light lemon peel undertones, this beer has emerged as a go-to for many people. Produced by Anheuser-Busch and brewed in the Belgian style, this beer has made its way to the top.
Shock top started as the Spring Heat Spiced Wheat, was a seasonal beer in 2006 which was brewed in Fort Collins, Colorado. However, the surge in demand made it a year-round variety within the next year and was renamed Shock Top. This high demand came as a shock to the entire beer industry.
Since then, the brand has evolved and developed diverse and unexpected flavors such as Pumpkin, Pretzel, Raspberry, and more.
The Hoppy Side of Shock Top
Shock top beer uses Imported Hallertau hops, which are then blended with Cascade and Willamette hops. Born in the Hallertau region of Bavaria, Hallertau hops are one of the four Noble German hops usually found in German lagers and Belgian Ales. It is typically used for flavors and aroma.
Brewed with passion and proprietary wheat, this quality beer has won many awards. It received a Gold medal in 2006 and a Bronze medal in 2007 at the North American Beer Awards in the Belgian White category.
What Is Blue Moon Best For?
The Blue Moon is best for pairing with grilled seafood, sushi, and Asian dishes such as Pad Thai. It also goes well with cheese recipes, as the coriander in the beer brings out the cheese's earthiness with a silky mouthfeel.
– Blue Moon: The Effervescent Belgian White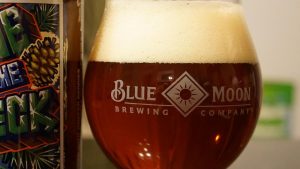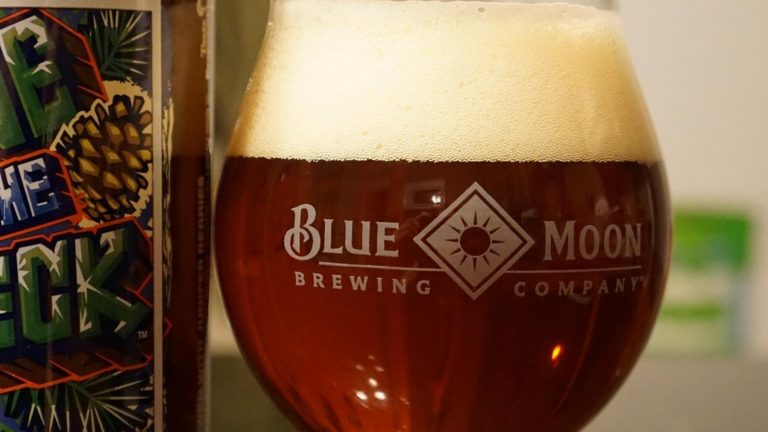 Imagined in Belgium and brewed in Denver, Blue Moon Belgian White is a beer that would caress your taste buds with its orange and coriander accents. This beer is now sold in nearly 25 countries. As the name suggests, it is a beer that comes around once in a blue moon.
It all started in 1955 with a brewer named Keith Villa, the founder of Blue Moon Brewing Co. After receiving a Ph.D. from the University of Brussels in brewing, Keith Villa created Blue Moon, which was originally called Bellyslide Wit.
Blue Moon was brewed in several locations throughout the 1990s to 2000s. MillerCoors launched a Blue Moon brewpub in Denver in the year 2016.
Along with the classic, the company offers a diverse variety of flavors to serve every beer lover a taste they can resonate with. The varieties include Iced Coffee Blonde, the seasonal Harvest Pumpkin Wheat, Peanut Butter Ale, Blackberry Tart Ale, etc.
The signature wheel garnish of Blue Moon is not actually a Belgian tradition but a creative twist by Keith Villa in the recipe. This orange peel was more than just a marketing gimmick. His brewing recipe was inspired by the combination of foreign ingredients like Valencia orange and oats.
Thanks to his keen observation and tremendous knowledge in flavor profiling, when he saw the European beers served with lemon wedges, he introduced the orange slices to accentuate the citrusy aroma of the beer.
Blue Moon Belgian White has won many gold medals in the World Beer Championship. This was possible with staff having expertise in brewing good quality beer.
Other Summer Beers
If you wish to broaden your taste buds but still play in your comfort zone, try these beers similar to Shock Top and Blue Moon:
– Allagash White Ale
This is a perfect beverage if you are a fan of Blue Moon and Shock Top but want to try other White Ales. If you are new and exploring, Allagash White Ale is a good place to climb the ladder of Belgian-style brews. Brewed with proprietary wheat and spiced with Curacao orange and coriander, this cloudy ale is light-bodied, smooth, and easy to drink.
– UFO White
This beer follows in a 300 years old traditional Belgian spiced brew. It reaches a good balance between a distinct blend of spices and orange peel. If you are looking to try something different, this offers a natural taste of zest and spice with a lingering soft crackery grain in the end.
Belgian Wits: A Brief History
Belgium is a country known for its waffles, chocolates, and beer, where the grass is greener, and the beer is in abundance with versatile style. For a small demographic, Belgium sure comes through with its impressive and diverse beer styles.
Belgium beers are mainly ales that are high in malts and fruity tones. One such style is Belgium White or Witbier.
Like every other style, this too has a well-documented history. Witbier, simply translated as White Beer, has been brewed in Belgium since the Middle Ages. Initially, gruit was used for flavoring and to balance the malty sweetness, a combination of orange peel, coriander, and other spices. Hops were introduced in the recipe during the later part of middle age.
The style nearly died in the 1950s but was revived by Pierre Celis, a farmer from Hoegaarden, in 1966. Celis successfully captivated interest in this waning style at his brewery, which he later sold to the company now known as Anheuser-Busch InBev. This style is witnessing a resurgence and is sold worldwide now.
– Renaissance
Currently enjoying a renaissance, Belgian Wits (white) have gained momentum in the American Beer market and the hearts of beer enthusiasts in the past few years. This ultra-refreshing cloud pale ale is brewed with unmalted wheat, sometimes oats or malted barley, seasoned with orange peels and coriander.
Its creamy texture, wheaty flavor, light body, and moderate alcohol content (between four to five percent) deliver perfect citrus to sweet ratio because of the yeast used in fermentation.
Like other beers, Belgian whites also vary from brewers to brewers.
Endnote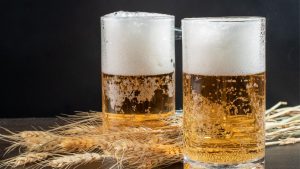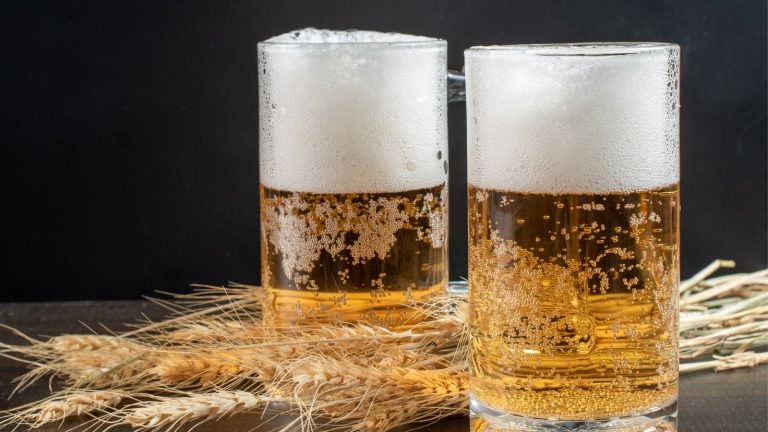 There are a lot of upsides when it comes to the growing trend of craft beer.
From a burst of citrus to lemony-fresh and herb-inclusive, the shelves of supermarkets sell a dizzying array of beers that are the best summer companion.
Both Blue Moon and Shock Top have a multi-dimensional flavor profile symbolic of summer refreshments best for BBQs nights or pool sessions with family and friends.