Yellow Rose Beer Review: All You Need To Know About This American IPA
If you've heard of the Yellow Rose beer, you probably noticed that people have a lot of good things to say about it. But sometimes, beers don't live up to the hype.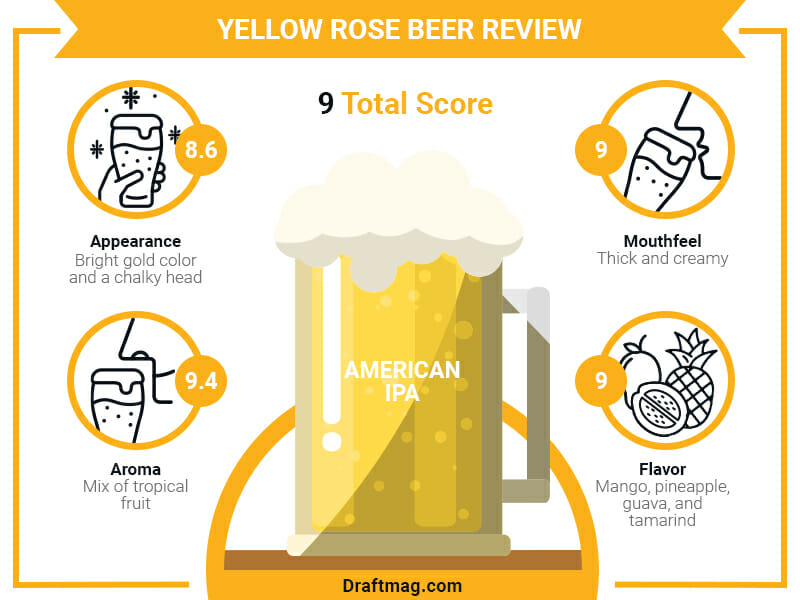 This American IPA will offer you a classic and robust ale flavor bursting with fruits. To know more, keep on reading this complete review of Yellow Rose.
Yellow Rose Beer Review
Here is a brief rundown of the Yellow Rose IPA.
| | |
| --- | --- |
| Brewery | Lone Pint Brewery |
| Based In | Texas, USA |
| Release Date | 2012 |
| Style | American IPA |
| ABV | 6.8 percent |
| IBU | 62 |
| Calories | 215 |
| Tasting Notes | White head with clean-tasting base. Has a strong fruity flavor from the hops, with hints of grapefruit, blueberry, and pineapple. Fruity aroma with hints of ethanol. |
Tasting Notes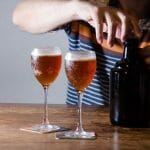 Yellow Rose Beer Tasting Profile
When you taste the Yellow Rose beer, you'll notice immediately that it's an American ale. It has a hop-forward flavor and is described as a SMaSH beer. This means that it has a single malt and single hops. The ingredients are well balanced to give you a desirable and balanced beer.
The tasting notes for Yellow Rose are further explained below.
– Appearance
When you pour the Yellow Rose into your glass, you will notice the bright gold color and a chalky head sitting on it. The pure white head enhances the beer's flavor and makes it look attractive in a transparent cup.
The beer also appears cloudy, but not so much to be considered as a hazy IPA. The fluffy head has strong retention that brings out the aroma, and the lacing remains on the sides of the glass. Keep in mind that the fresher the beer is, the better the appearance, especially with the head.
– Aroma
The Yellow Rose IPA hits your nose with a mix of tropical fruit aromas, which is expected from an American IPA. You can expect hints of mango, guava, pineapple, blueberries, and other fruits if you take your time to enjoy the aroma. There are notes of darker tropical fruits, too, like lucuma.
The hoppy character in the beer is combined with a slight yeast ester that you will notice in the aroma. Since the beer has an above-average ABV, it's not surprising that you will perceive hints of ethanol. Overall, the aroma is dank and fruity.
– Flavor
The fruit salad character of the Yellow Rose brew is not only evident in the aroma. Although it tastes a bit darker than the bright fruits you get when you smell it, it follows through in the flavor. The beer's flavor is dominated by orange, and the taste is deep and refreshing.
Aside from orange, you can also taste hints of sweetened lemon, although this is faint. The beer also has some flavors of mango, pineapple, guava, and tamarind. This beer has minimal bitterness, as the dank and fruity flavor covers this up from the hops.
– Mouthfeel
The Yellow Rose beer has a juicy mouthfeel that will keep you refreshed. The thirst-quenching beer has a thick and creamy mouthfeel, although it's considered creamy compared to other American IPAs. You will notice restrained carbonation in the mouthfeel.
It has a clean taste that leaves no bad traces on your tongue, and the balance of the mouthfeel between light and heavy matches the balance of the single malt and hop. After swallowing, the beer leaves behind a nice bitterness zing without making you feel uncomfortable.
Nutrition Facts
The Lone Pint Yellow Rose beer has 215 calories, so it's nowhere close to a low-cal option for healthy drinkers. It also has about 10.67 grams of carbs in a 240ml serving. The ABV is 6.8 percent, while the IBU is 62 due to the hop-forward flavor.
The beer is not ideal for those on a keto diet because of its high net carbs. It is also not a gluten-free option, so those in this range should avoid it. Yellow Rose also has 2 grams of sugar and 3 grams of protein.
It's a perfect choice for drinking during the summer because of its refreshing character.
– Ingredients
The Yellow Rose IPA is made with a caboodle, a Pilsner malt, and the Mosaic hop. The Mosaic hop is obtained from the Simcoe, a popular IPA hop. The brewers use the whole cone mosaic in the kettle to add a deep flavor and aroma when making the beer.
If you're planning on making a Yellow Rose clone, you should focus only on using Mosaic hops throughout the brewing and dry-hopping process. Also, you can go for a pale ale malt like Dingemans.
Drinking Yellow Rose IPA
If you've decided to drink Yellow Rose, the first thing you'll notice is its attractive packaging. Whether it's the can, bottle, or the growlers that you can purchase from brewpubs, the beer has a trendy and great look.
The bottle has a curved shoulder and a label with Emily D. West, a legendary woman in Texas. Many beer lovers prefer this beer because of the packaging alone.
You should purchase a fresh bottle of this craft beer by checking the manufacturing date. Alternatively, you can visit a brewpub to get it directly from the tap. Here are some things to keep in mind when drinking Yellow Rose.
– Serving Tips
The perfect serving temperature for your Yellow Rose is between 45 and 50 degrees Fahrenheit. Although an IPA can be served cold, you shouldn't leave it in fridges with very low temperatures or it will lose its aroma.
The flagship brew will taste better at warmer temperatures. Aside from the temperature, you should choose a snifter glass to serve your Yellow Rose. The glass is designed with a slimmer bottom that helps you release the CO2 bubbles and retain the foamy head.
– How To Store
If you're not drinking your Yellow Rose immediately, you will need to store it properly. By doing this, the quality remains, and you can always enjoy it another time. The storage temperature for an American IPA is the same as the serving temperature.
You should also store your Yellow Rose in the fridge since this is an excellent and dark place to retain its flavor. Store it standing upright and keep it away from light as much as possible. If you're going to bring the beers out, keep in mind that it isn't good to let brews cool down and get cold again.
If you have already opened the Yellow Rose, you can keep it in the fridge but make sure to drink it within 24 hours or throw it out. Any longer than that and you will end up with an off-tasting beer.
– Food Pairings
Ales are compatible with versatile foods, and the Yellow Rose fits this bill. However, it goes best with dishes that have intense flavors, especially because of its fruity flavors. You can never go wrong with spicy dishes when eating the Yellow Rose.
Other top food pairings for Yellow Rose are fried foods, grilled meat like steaks or burgers, Mexican food, Indian food, and rich foods. Eating spicier and strong foods will calm the bitterness of the beer down.
If you want to have IPA with snacks, you can choose fish tacos, fish and chips, or a ceviche. Cheese lovers can go for the cheddar cheese, blue cheese, or Parmesan Reggiano.
Popularity
The Yellow Rose beer is a famous release from Lone Pint Brewing in Texas. You can find the tap handle for this beer at almost every bar in the state, and these bars run out too quickly.
This makes the beer the most popular and the hardest IPA to find in Texas. Customers love the beer for many reasons. The attractive packaging with the picture of the heroine is one, while the SMaSH concept is another.
The latter has gained a lot of praise from beer lovers. Even with only Pilsner malt and mosaic, the Yellow Rose brew can offer a great price, increasing its popularity.
Frequently Asked Questions
– How Many Carbs Are in a Lone Pint of Yellow Rose?
The Yellow Rose brew has up to 10.67 grams of net carbs, with a serving of 240ml each. The carbs are very high, making it a bad choice for health-conscious drinkers.
– What Is a SMaSH IPA?
SMaSH is an acronym for Single Malt and Single Hop, which means that only one malt and type of hop are used, unlike many other beers. The Lone Pint Brewery started this, and many others are following close behind.
– What Is a Rose IPA?
A Rose IPA is made with Nelson Suavin hops and is inspired by the Rosé Brut, which gives it flavors and aromas of gooseberry, hibiscus flowers, and white wine grapes.
Conclusion
The Yellow Rose brew is a flagship with a large cult following, and for a good reason.
Yellow Rose is an American IPA with 6.8 percent ABV.
The IPA features a fruit-flavored taste and aroma.
Yellow Rose has bright gold and cloudy appearance and a clean and medium mouthfeel.
It is made with Pilsner malts and Mosaic hops.
The beer goes best with spicy foods and meals with strong flavors.
So the next time you're considering this beer, you should look out for a fruity and vibrant taste. You might just like it!