Batsquatch Beer Review: Juicy Brew With Tropical Fruits
Batsquatch Beer is a unique, tropical IPA bursting with hops and fruits on a balanced malty base. The cloudy IPA offers you intense tropical flavors and aromas that offer a slick and smooth mouthfeel with every swallow.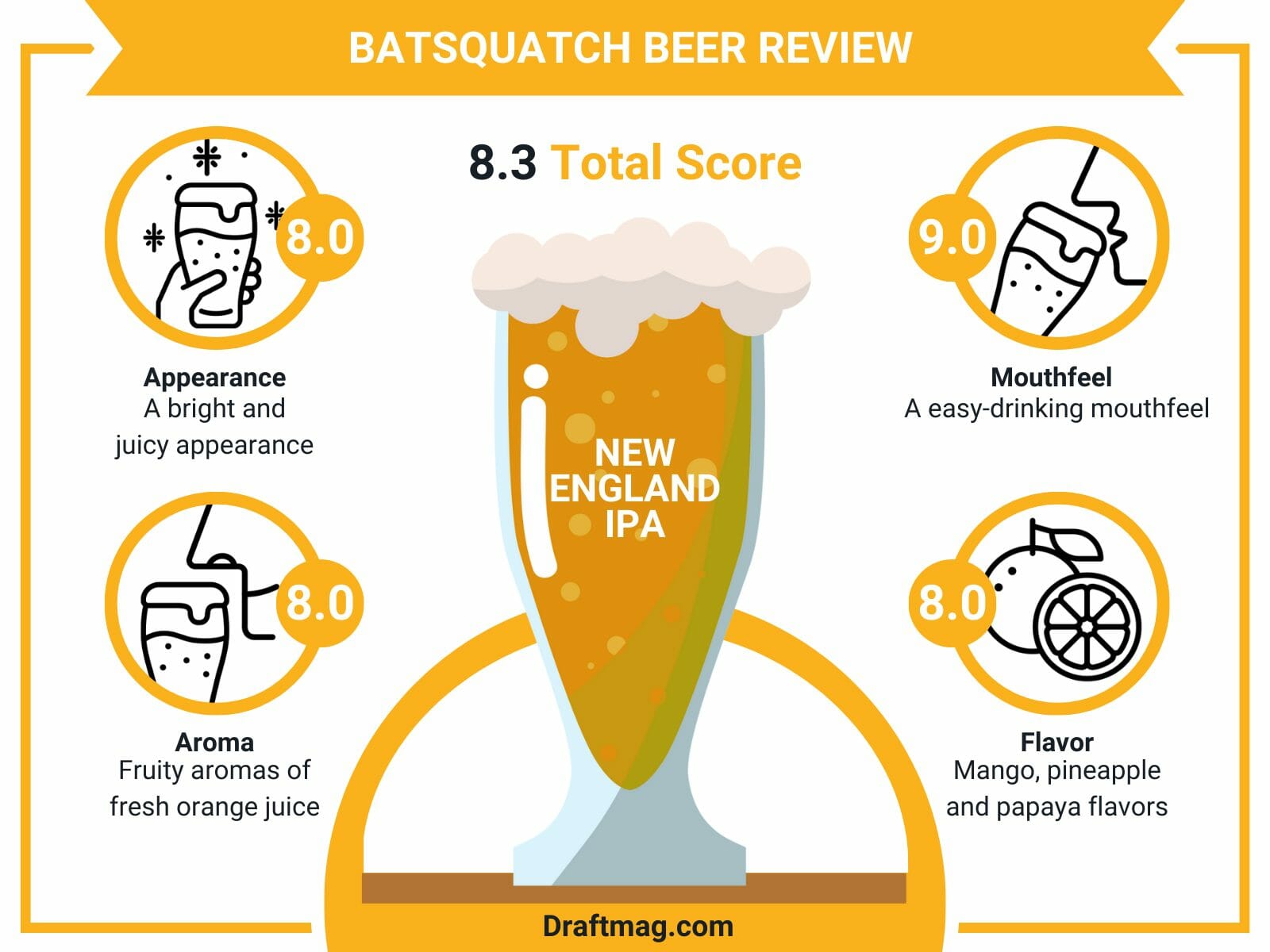 Hazy on every level, the smooth and crisp beer will go great with crunchy foods, spicy meals, and smoked, roasted meats. In our review, we cover all you need to know about this juicy beer, so continue reading below. 
Batsquatch Beer Stats
| | |
| --- | --- |
| Country  | United States |
| Brand | Rogue Ales  |
| Style | New England IPA |
| Taste  | Tropical, piney |
| Body | Light body |
| ABV | 6.7 percent |
| Flavors & Aromas | Tropical fruits, pine, juicy, orange, pineapple, papaya, mango |
| Serving Temperature | 45 – 50 degrees Fahrenheit |
Tasting Notes
Batsquatch Beer Tasting Profile
Batsquatch Beer Review 
Appearance: 8/10

Aroma: 8/10

Mouthfeel: 9/10

Flavor: 8/10
Batsquatch is a New England India Pale Ale, and it promises you a juicy, fruity, and sweet taste from start to finish. With the haziness consistent with the style, the beer offers a 6.7 percent alcohol content and a light, crisp body that offers a drinkable body. You can easily finish the beer on a hot summer day.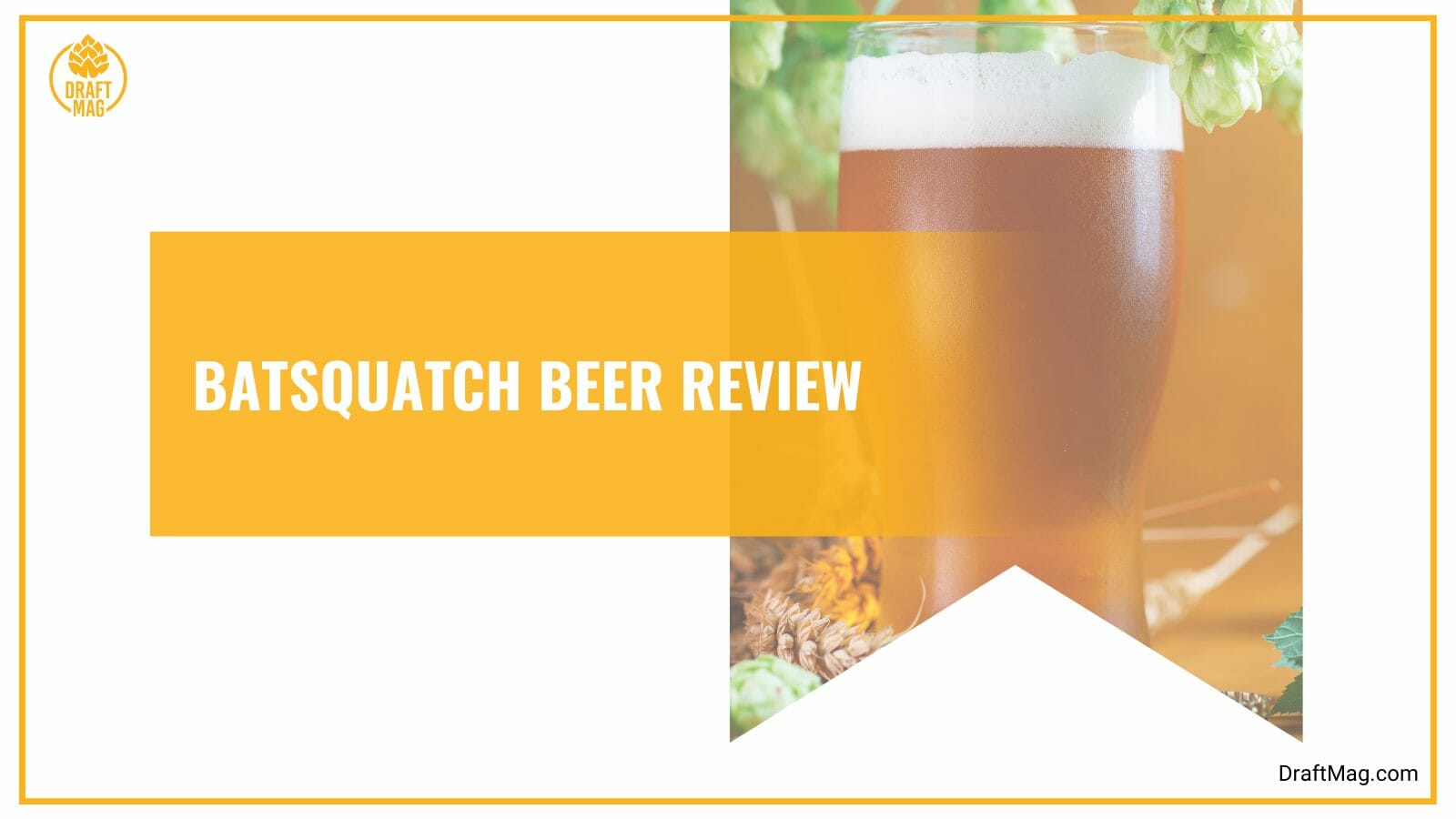 The beer has flavors and notes of tropical fruits, pine, oranges, papaya, pineapple, mango, and a lot of juiciness from start to finish. It's an excellent example of the beer style, offering a soft body that pairs well with different kinds of food.
Serve the IPA in a pint glass as this shows off the light, hazy body and holds the soapy head in place after pouring. The ideal serving temperature for this beer is from 45 to 50 degrees Fahrenheit; you can also garnish it with a thick orange wedge set on the rim of the glass. 
– Appearance 
On the pour, the Batsquatch IPA has a bright and juicy appearance that will remind you of orange juice. The golden color is balanced out with the hazy appearance that is consistent with the style, and you can see the unfiltered specks and orange pulps floating in the beer.
On top of the juicy NEIPA is the white soapy head only a finger high, and it leaves fantastic lacing against the glass as the beer waters down. The beer looks mouthwatering and excellent, and it provides an excellent first look at what is to be a refreshing and thirst-quenching brew.
– Aroma 
You can smell the beer from the moment you start pouring it, and it will overwhelm you with the fruity aromas of freshly squeezed orange juice. Some beer lovers might say that it smells more like fruit juice than beer, but you can still smell the strong hoppy backbone as the beer warms up.
You might notice aroma notes of pine, papaya, mango, and pineapple as you go on, with the pine taking the front seat. This brew smells like a vacation by the beach or a summer picnic with all the juicy fruits in its aroma.
– Mouthfeel 
The feel of this beer is excellent, checking off the list of the perfect NEIPA style. It has a soft and crisp body that goes well with a wide range of foods and gives you a smooth, easy-drinking mouthfeel despite the alcohol content.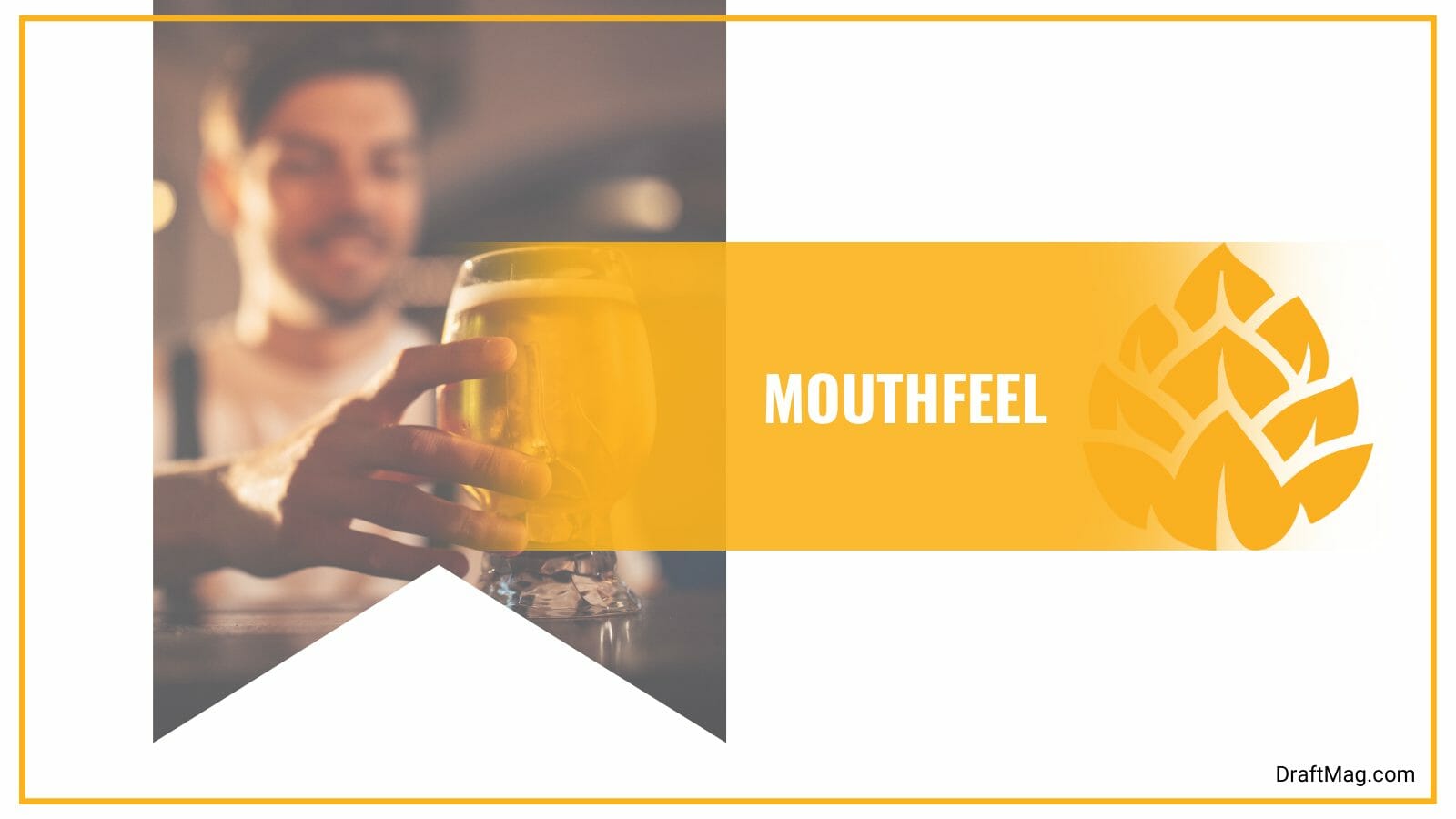 The beer has a light body with fantastic carbonation, although not evident because of its hazy appearance. You can taste the light fizzy feeling on your tongue, which balances out with the soft smoothness and crisp body. 
– Flavor 
The flavor of the Batsquatch NEIPA follows the aroma very closely and will leave you impressed. The beer tastes sweet and hoppy, like orange juice but with a strong beer character. It is fresh, juicy, and very tropical, and there's a lot of pine from the hops.
Towards the middle of the palate, you will notice a stronger flavor of tropical fruits, with hints of mango, pineapple, and papaya. This balances out with the taste of orange juice. There's a bit of biscuit in the taste that stays in the backbone as the hops kick in and remain solid throughout. 
The beer balances out the hops and fruits with the slight biscuity malts in a delicate fashion, and it finishes a bit dry. 
– Food Pairings
When having the Batsquatch beer, you can't go wrong with any roast chicken recipe. The roast chicken will pair well with the fruitiness of the beer, giving you a refreshing experience. You can also try having smoked, barbecued, and fried foods like chicken, beef, turkey, and pork.
A good option is a Hawaiian Pork Tenderloin. You can balance this out with crisp and bright produce, which complements the soft and poppy mouthfeel of the NEIPA, so try out English peas, artichokes, scapes, and green onions. Spring onions and ramps will also bring out the bitterness from the hops.
You should also consider having crispy food to balance with the soft and crisp taste of the beer, so try out corn on the cob, fried chicken with fries, or a potato salad. For dessert, satisfy your sweet tooth with a matcha crème brulee or a blood orange sorbet. Cheeses like goat cheese or blue cheese also pair well with this beer. 
Ingredients 
The Batsquatch IPA is made with malts, hops, yeast, and water to give you a vibrant and fruity experience. The malts used to make this beer include 2-row malts, flaked wheat, oats, and malted wheat. These give you a biscuity malts backbone and lend to a smooth body.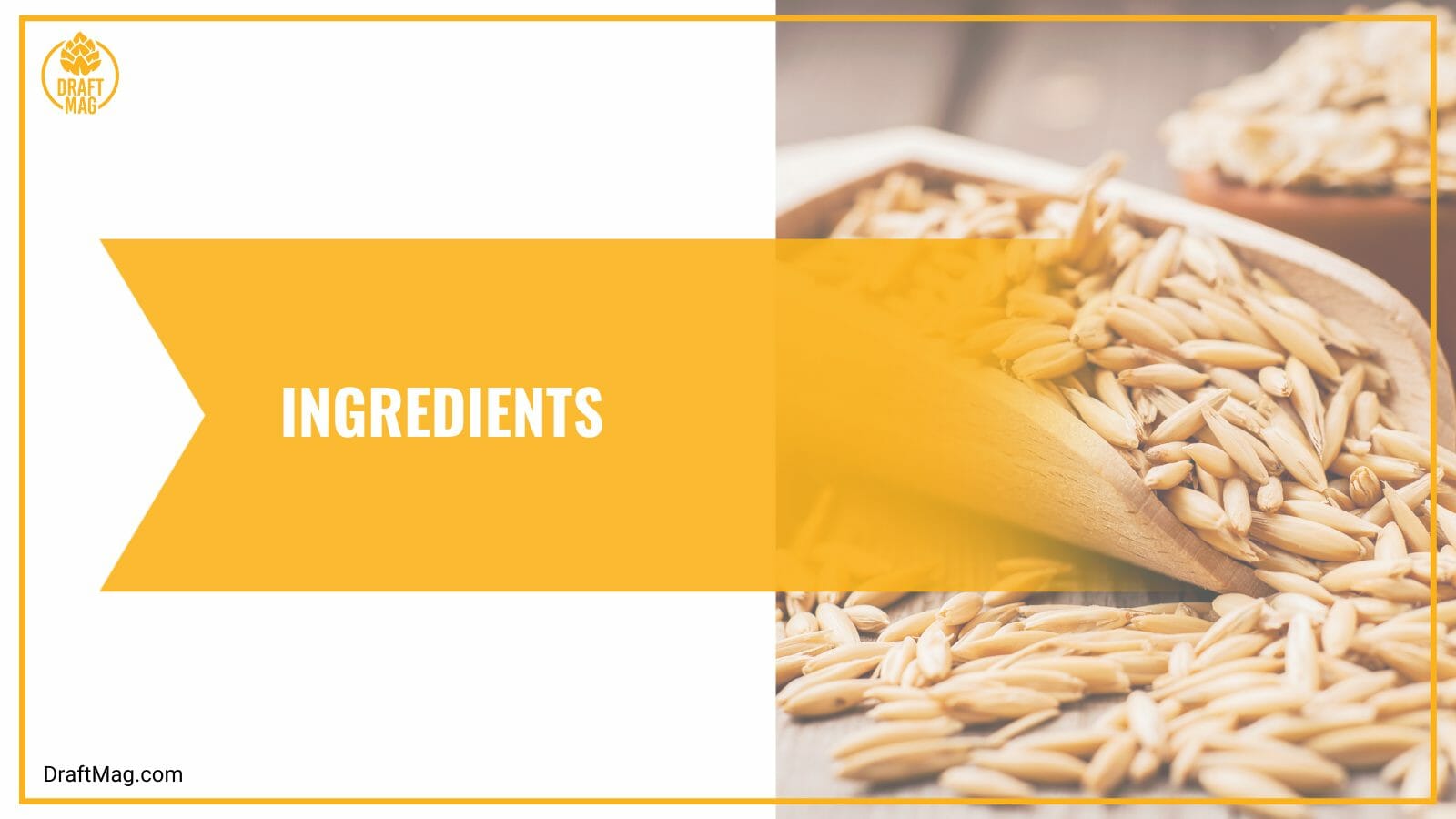 As for the hops, they include El Dorado, Mosaic, and Belma hops, offering you the bright flavor and aroma of tropical fruits, orange, and pine. The beer is fermented with Imperial Juice Yeast and made with Free Range Coastal Water. 
Nutrition Facts 
The Rogue Batsquatch hazy IPA features an alcohol content of 6.7 percent, which is expected for this beer style. The alcohol content is barely evident in the character of the beer, although there is a bit of warming towards the end. It also has 54 IBU, which shows how bitter the beer will be. You can expect a lot of bitterness from the hops but nothing unpleasant. 
In every 12 ounce serving of this beer, you get 220 calories, 23 grams of carbs, 3 grams of protein, 1 gram of sugar, and 10 mg of sodium. The beer is not ideal for those on a keto diet because of the high carbs, and it is also not gluten-free. It's important to consider the nutrition facts when calculating your dietary intake, so for those who are on a strict diet, it will be best to give this one a pass.
History 
Batsquatch was released by Rogue Ales and Spirits in 2018 and has remained one of the most popular beers from the brewery. It is named after the fabled Batsquatch that stays in Mount St. Helens, and since the tales are hazy when it comes to details, they decided to name the hazy IPA after it.
This is by one of the first breweries in Oregon, as it was founded in 1998. It is also one of the first breweries to combine with a distillery in America. The brewery farms its ingredients and uses this in making its beers and spirits. 
Conclusion
With every sip of the Batsquatch IPA, you can enjoy all the balanced flavors of tropical fruits, piney hops, and biscuity malts.
Here's a summary of our review before you go:
Batsquatch is a New England IPA with an alcohol content of 6.7 percent. This brew is perfect for beach trips or picnic dates during the warm summer months.
The beer has flavors and notes of tropical fruits, pine, mango, papaya, pineapple, biscuity malts, and a lot of orange juice.
It is made with malts, hops, Imperial Juice Yeast, and Free Range Coastal Water.
This brew is best served in a pint glass at 45 degrees Fahrenheit and garnished with an orange slice.
It pairs great with roast chicken, crunchy dishes, smoked and barbecued foods, crispy vegetables, fruity desserts, and blue cheeses.
It's easy to get the Batsquatch ale at a wide range of stores and supermarkets. You can also get it right on tap at Rogue Ales whenever you're in Oregon.