Best German Beer: Our Top 15 List of the Most Well-loved Brands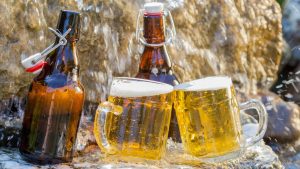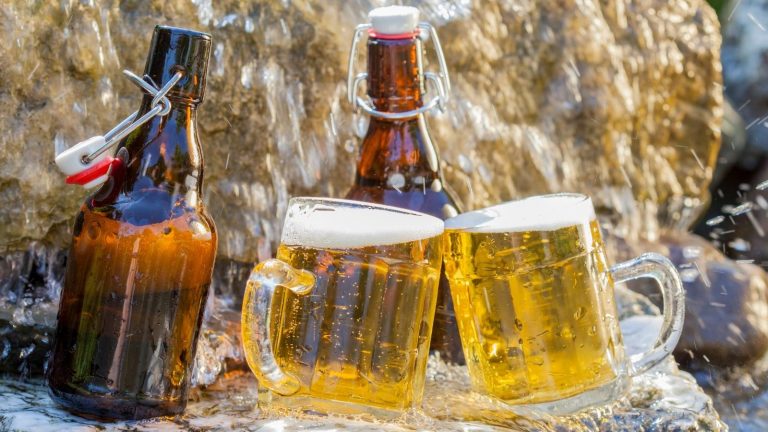 If thinking of the best German beer does not remind you of Oktoberfest, we don't know what will. Germany is considered one of the finest places on earth where the best beers are brewed and served.
The premium and rich flavors are simply incomparable to many other light styles of beer readily available, and the reason why German beers taste so good is because they are not mass-produced.
In this article, we will go through a list of the best German beers available in the market.
The Best German Beers You Must Try
Knowing that there are plenty of German beers to try, it can be tricky to randomly pick one and call it a day. Instead, our beer experts have prepared a list of only the best among so many German beer brands for you to try and thoroughly enjoy.
Kellerbier Unfiltered Lager by Hacker Pschorr
The unfiltered Bavarian beer is at the top of our list and also our favorite. The flavors are deep and complex in equal measure. It is officially called a lager beer, and with an alcohol content of 5.5 percent, the beer feels easy to drink.
The most noticeable smells are of peach and wheat, with honey-soaked apricots, walnuts, honey and toast emerging on the first sip. After a few minutes, it starts out with a hazy, caramel color that fades to a shimmering, semi-opaque orangey gold.
Maltiness, a small coffee bean bitterness, a little coconut and a few toasted malt bread crumbs are all there in the background. The beer is well-balanced, with a faint syrupy sweetness holding it all together.
It also gives off a lively fizz that makes it taste so refreshing and fulfilling at the same time.
Schneider Weisse by TAP7 Mein Original
TAP7 Mein Original is a wheat beer (Hefeweizen) from one of the best family-owned breweries of Germany that specializes in making wheat beers. The Schneider Weisse brewery was founded in 1872, impressively long ago. This wheat beer is a great example of how some of the German beer styles can be easily paired with food as the strong flavors of the beer make it a good match for spicy meals.
It has a deep amber color when poured. With warm cloves, allspice and nutmeg on the palate, the taste is further enhanced by coriander. The maltiness and spiciness are quite well balanced. Herbal and lemony honey flavors contribute to a delicate flavor.
The beer contains 5.4 percent alcohol, which is quite mild. It finishes off with a crispy note, smokiness, taste of burnt toast and charred orange peel. All these flavors help the cover-up and prevent it from being too sweet to handle.
Hefe Weissbier by Weihenstephaner
This is another hefeweizen, or wheat beer, that we absolutely love!
You might come across quite a few wheat beers on our list as German flavors are popular for wheat. The brewery specializes in using traditional brewing processes to create continental European-style beers. The Hefe Weissbier has a similar taste profile to TAP7 Mein Original as both these beers have flavors of banana and clove with a common maltiness.
There's also cinnamon to add spiciness to the already rich flavors of this beer. Moreover, the beer has a moderate alcohol content of 5.4 percent with 162 calories.
You will instantly fall in love with its golden-yellow color that ends with a foamy head and features a smooth yeast taste. You might also find aromas of orange blossom and lemon zest with floral flavors on the tongue.
Weihenstephaner's Hefe Weissbier is dry-hopped and has a medium body flavor, but the banana remains prominent and refreshing.
Rothaus Tannenzäpfle by Rothaus
At 5.1 percent alcohol, the Rothaus Tannenzäpfle provides a strong flavor. When poured, the beer has a pale gold appearance that settles with a satisfying frothy foam head.
This traditional pilsner has balanced flavors of green walnuts, which also adds a little bitterness to the beverage. The beer offers a yeastiness that adds body and roundness to it, while a bit of toast and a hint of pineapple add a surprise twist at the end.
On the first sip, Rothaus Tannenzäpfle is refreshingly bitter, but the flavors quickly feel sweet due to honey and dried banana. Individually, the flavor notes are fairly rich and deep, yet they're enhanced by the hop bitterness. As a quite strong beer with prominent flavors, you can easily drink one of these without worrying whether you will be able to enjoy it or not.
OktoberFest-Märzen by Ayinger
OktoberFest-Märzen has a beautiful golden appearance. On the palate, it offers a copper maltiness with caramel highlights.
As the beer settles in the glass, it forms an almost white foamy head. With hints of orange peel and a little bit of cigar smoke, you will be delighted at every sip of this amazing German beer.
When it comes to the alcohol content part, the beer is a strong 5.8 percent but is still drinkable and easy to approach. When it comes to Oktoberfest beers, märzen is the most common choice.
These malty beverages are just as well renowned for their rich flavor as they are for the celebration that goes along with them. They are traditionally brewed in March so that they are ready for the fall.
Lager Hell by Ayinger
When you want something cool and refreshing, Lager Hell is a great option. This beer is in the Helles category, with a surprisingly low alcohol content of 4.9 percent. The beer packs a shocking punch for its low ABV. It starts off with a bread roll flavor complemented by honey and lemon.
Some beer enthusiasts find this beer a little heavy on the flavor side, but nevertheless, you can't go wrong with Lager Hell. With a touch of lemon and green apple, the fizziness makes the flavors blend together very well. For a refreshing beer, this is all you need.
Hofbrau Original by Hofbrau
Hofbrau Original is a full-bodied lager beer with a slightly malty taste. It packs 5.1 percent alcohol with a satisfying freshness at every sip.
The slight spicy notes and grain aromas with a soft bready taste are all you need for a German lager beer. For sweet beer lovers, the hint of honey paired with a crisp makes it perfectly delicious in the mouth.
A punch of lemony hops will greet your first sip into Hofbrau Original. There's also a toast, as well as a fizz that fills the palate and brings the honeyed wheat flavors to life.
The golden appearance of the beer with a thick foamy head is enjoyable even to look at. It's a perfect example of what German breweries are known for — light, pleasant lagers, and a little more complex than expected.
Köstritzer Schwarzbier by Köstritzer
Schwarzbier means black beer, so the Köstritzer Schwarzbier is a dark-roasted malt-based lager with a 4.8 percent alcohol content. It provides a toasty, nutty aroma as well as flavors of pumpernickel and bitter chocolate. This is one of Germany's most well-known schwarzbiers.
Instead of being a creamy stout, Germany's version of "black beer with a light body" is a lean, sleek lager with all the grace and precision we expect from traditional German brewing.
Köstritzer Schwarzbier is brewed in a brewery that was founded in 1543. A popular beer that bears a lot of resemblance to the Köstritzer Schwarzbier is Guinness.
Weltenburger Kloster Barock Dunkel by Klosterbrauerei Weltenburg
Weltenburger Kloster Barock Dunkel is simply superb in all categories of taste of a true dunkel style beer of Germany. With a low alcohol content of 4.7 percent, you're in for a delicious experience of a full-bodied beer.
When poured right, the white foam head is long-lasting. It features a malty flavor with strong notes of chocolate.
Even though it is named Dunkel, the popular German beer is neither very light nor too dark in appearance. The color is balanced, just like the flavors in it.
As you take a sip of this, you're bound to enjoy the caramelized Munich malt, which is a significant ingredient of the Weltenburger Kloster Barock Dunkel. But fear not, it's not as sweet or mellow as you'd expect it to be.
Krombacher Pils by Krombacher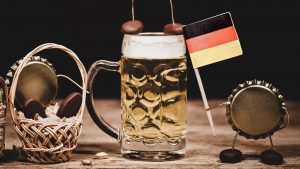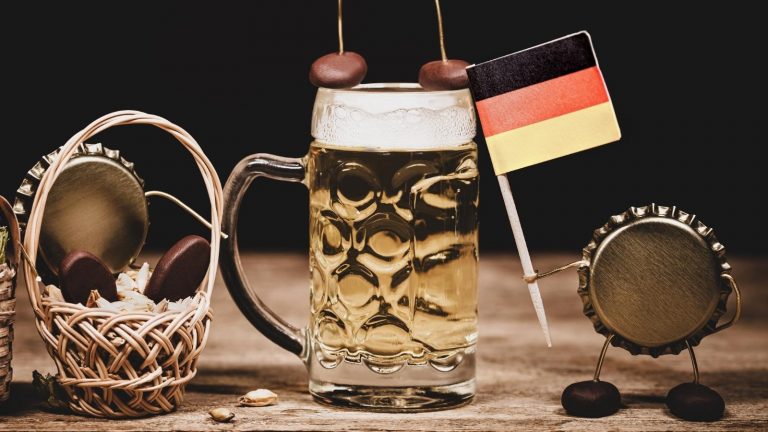 This sweet German beer is light and easy to drink. Krombacher Pils is a pilsner style lager beer. It is perfect for when you just want a nice, crisp, chilled lager to quench your thirst without having to think too much. At a moderately low alcohol content of 4.8 percent, the Krombacher Pils won't get you drunk that much.
The beer is brewed with mild aromas of wheat, malt and yeast. The pale golden lager has a gentle, honeyed sweetness that adds structure and substance to the palate. The taste lasts long on your palate and has a very refreshing taste with light carbonation, but the hint of peach and lemon is not quite distracting.
Edelstoff by Augustiner-Bräu
Augustiner-Bräu is Munich's oldest independent brewery, which was founded in 1328. One of its most popular German beer is the Edelstoff Helles.
Back in the day, Munich had a tradition of making renowned German dark beers, but by the 1890s, the trend of crispy pilsner beers rose to the limelight. So the industrious Bavarians brewed their own version of a "pale lager," and named it Helles, which means "pale" or "bright."
A standard Helles is usually a little fuller and a little sweeter than a pilsner or kölsch. Similarly, the Edelstoff offers delightful flavors of hay, fresh-cut grass, toasted bread, biscuit and even a hint of honey and chamomile.
It contains 5.6 percent alcohol content and is very easy to drink.
Hofmeister Helles Lager by Hofmeister
Hofmeister Helles Lager belongs to one of the award-winning breweries where beers are brewed with utmost care. Most of the beers of Hofmeister Brewery are cold fermented and slow-brewed, which contributes to its distinctive taste and builds flavors.
This Bavarian beer appears with a pale honey tint and has a long-lasting frothy head. Apart from barley, hops and mineral water, the beer also features mild flavors of spice and peel, with the first sip recreating the aroma of a clove-studded orange.
At 5.0 percent alcohol content, we are glad that we can drink more of this delicious beer. Pick this beer if you want to quench your thirst to the fullest on a sunny day during the summer. With warm notes of orange, honey and apricot, you will be reaching for more of this flavor-packed beverage.
Salvator by Paulaner
Paulaner's Salvator contains the highest alcohol content in our list at 7.9 percent. Even though the beer may feel a little heavy to drink, it's definitely worth the try for beer lovers who want the alcohol hit.
The beer features appealing aromas of chocolate and caramel malt, as well as rich breadiness on the palate. It finishes with a bite of spicy hops, leaving you craving for more sips.
Salvator provides a fuller mouthfeel and premium richness. The doppelbocks ("double bocks") highlight the remarkable malt-forward bock flavor of the beer.
Salvator is the grandfather of all doppelbocks, having been created by Franciscan monks at St. Francis of Paula in the 17th century. You can also try some of the other renowned Munich doppelbocks, such as Spaten's Optimator and Ayinger's Celebrator, all of which end in "-ator" as an homage to the beer that started the enduring style.
Ur-Bock Dunkel by Einbecker
Despite its high alcohol content of 6.5 percent, Einbecker's Ur-Bock Dunkel is a lager beer of an older style. A bock is a strong lager with a distinct malty taste that was first made in the city of Einbeck in the 14th century.
They're available in a variety of types, from light and refreshing maibocks to darker, more brooding "dunkles bocks" brewed to keep beer lovers warm and cozy on winter nights. The malty flavor profile with notes of toffee and raisins feel smooth, with a touch of hop flavor to balance out the caramel and molasses.
Ur-Bock Dunkel is a traditional dunkles bock beer brewed in the same region that invented the style many centuries ago. Surprisingly, the beer is still sold in the same bottles that were designed in 1851.
Benediktiner Helles
Benediktiner Helles is a Bavarian-style lager with 5.0 percent alcohol content. It is made with fruits, hops, brightness and malt, all of which feel balanced and melt in your palate.
The initial taste of toasted caramel and peach helps to make this beer stand out from typical pilsner-style beers. As a Helles beer, the beer is easy to drink and difficult to forget.
The flavors are rather complex for a lager but still praiseworthy. The aromatic herbs and fruitiness of the beer are welcoming on the nose. The Benediktiner Helles leaves a little dryness due to the intense character, but you will enjoy sipping more of this golden-yellow beverage.
German Beers
German beers not being mass-produced allows the breweries to focus on style and perfect the art of brewing. The ancient beers from Germany have a stark difference in their taste and flavor, thanks to the bottom-fermenting yeasts that flourish at colder temperatures and offer a unique taste to these traditional German beers.
From the full-bodied yet refreshing Helles to the rich and smokey rauchbier, the range of German lager beers is a broad one. Germany is not only popular for lager beers; they also offer a vast range of beer styles and types, some of which you might be unaware of.
Two of the most popular German beers include the fruity hefeweizen and the sharp kölsch. The popularity of good German beer is so widespread that German brewing is seen as an inspiration for German beers in America, where breweries have also tried their own versions of lagers to keep up.
In Conclusion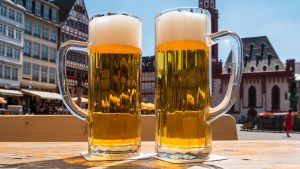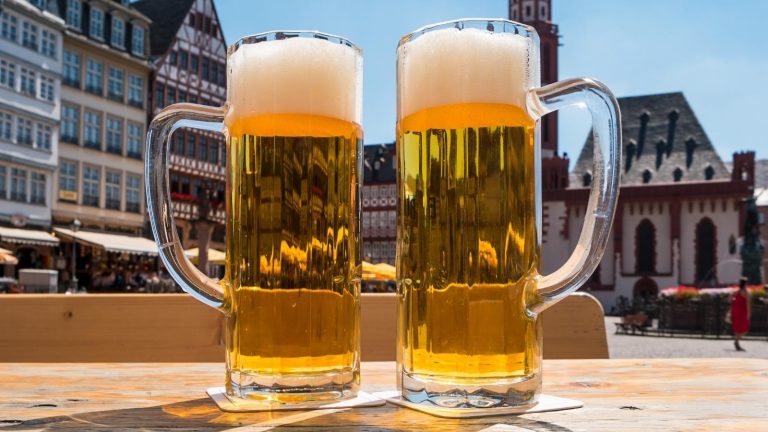 From Hacker Pschorr's Kellerbier to Benediktiner Helles, Germany is the land of great beers with some amazing styles and brewing techniques. Among all, the lager and pilsner beers are widely preferred and loved, but those who enjoy a little complexity in their drinks will find lots of options in our list.
The reason why German beers taste so good is because they are not mass-produced, which allows the breweries to focus on style and perfect the art of brewing.
Ancient beers from Germany have a stark difference in their taste and flavor, thanks to the bottom-fermenting yeasts that flourish at colder temperatures and offer a unique taste.
Germany is not only popular for lager beers; they also offer a vast range of beer styles and types such as Helles and Dunkel beers.
Whether you enjoy imported German beer or want to try premium beers on your visit to Germany, German breweries have so much to offer, so go and try as much as you can.