Best Greenville Breweries, SC
Prepare your pint glasses and join us on a flavor-filled journey through Greenville, SC, known for its picturesque beauty and impressive collection of breweries that beer lovers can't resist! Discover the best breweries that contribute to the lively beer culture in the city and witness traditional brewing techniques every beer enthusiast will adore.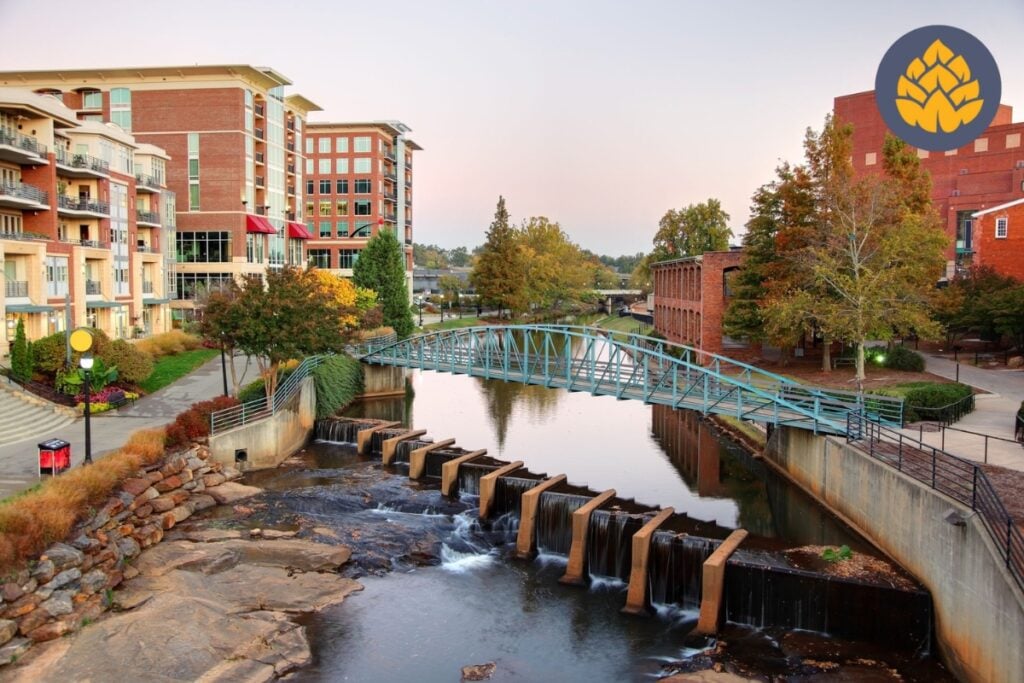 As you embark on a flavorful journey throughout Greenville, South Carolina, you'll taste a world of unique flavors at the very best breweries and discover some of South Carolina's finest crafts beers, like the tantalizing Trop Hop Beer, the intriguing Dirty Myrtle Beer, or the refreshingly fruity Son of a Peach.
Celebrated as one of the most revitalized cities in the United States, tucked in the foothills of the Blue Ridge Mountains, Greenville is a city that embraces its history while welcoming change with open arms.
Its rich history dates back to the late 1700s and was once known as the textile capital of the world. Nowadays, this gleaming city is an international manufacturing powerhouse with over 250 international firms from 26 different countries setting their stall here. From research companies to automotive technologies, Greenville has welcomed everyone!
The burgeoning beer scene in Greenville has also seen tremendous growth in recent years, with no less than 25 craft breweries opening their doors, showcasing the very best upstate craft beer creations combined with fun-loving hospitality. It's a true beer lovers paradise in Greenville!
And what better way to enjoy a refreshing cold brew than after walking along the popular Swamp Rabbit Trail in Unity Park, spanning 23 miles with picturesque views of the Reedy River and hosting state-of-the-art playgrounds, picnic areas, basketball courts, and restaurants.
There's more than just beer in this beautiful city, but for now, it's time to talk about the breweries in Greenville, SC.
Readers Favorite: "Iron Hill Brewery & Restaurant"
The amount of awards they have won for their range of craft beers is incredible. You feel their passion with every sip! Combine that with the top-notch food, members club, friendly staff and live music – and that's why people love this place.
Best breweries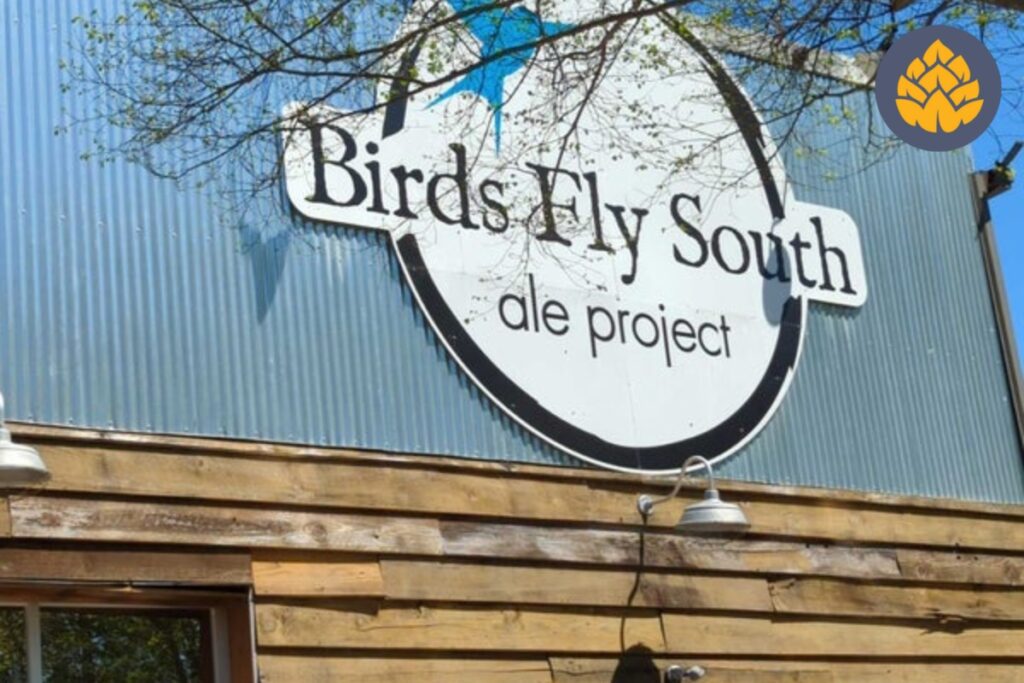 Starting the list is one of Greenvile's finest breweries called Birds Fly South Ale Project. This family and dog-friendly establishment combines some of North Carolina's best craft beers with a lively atmosphere and spacious outdoor green seating area.
Their beer selection constantly gets 5-star reviews from customers. Specializing in a range of sours, imperial stouts, and seltzers that are updated frequently to give visitors a new taste with every visit.
When it comes to entertainment and food, expect trivia games and music bingo to participate in, as well as occasional live music performances to see. If you love tacos, then you're in luck because the White Duck taco (AKA, the best tacos in town) is right next door, cooking up the most amazing Mexican street food to bring to your table.
All-in-all, Birds Fly South Ale Project is a must-visit brewery for any beer lover passing through Greenville!
Location details
Recommended beer: Bad Bird: POG – Seltzer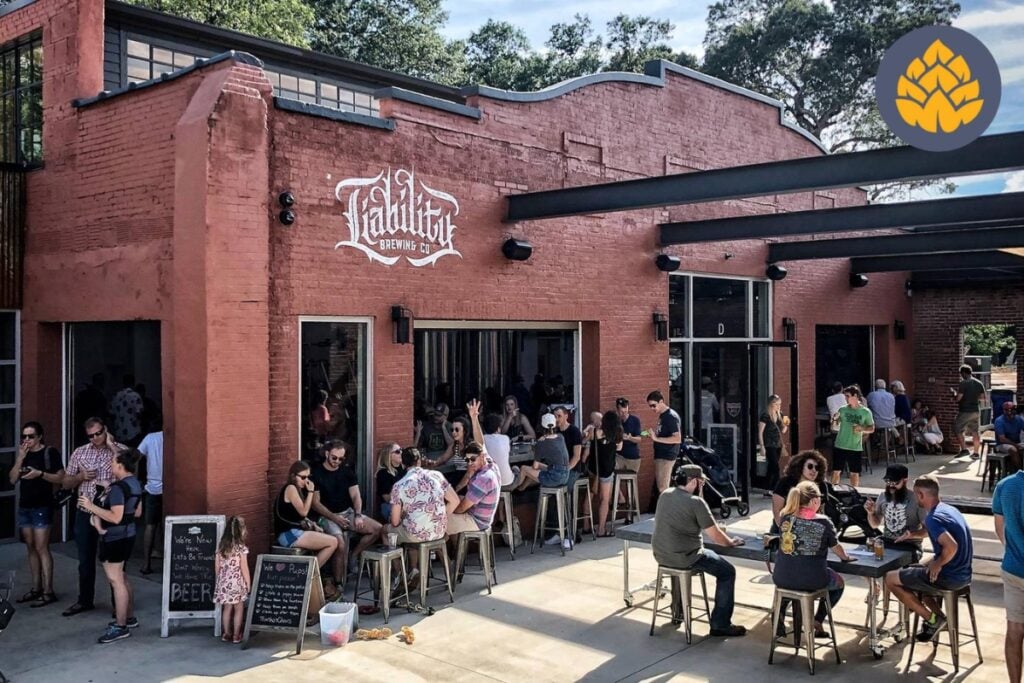 Liability Brewing is located in the heart of downtown Greenville and offers a standout drinking experience with a unique neighborhood vibe.
This newbie-friendly brewery prides itself on producing precious pints that are just as approachable and fun as the staff that churn it out. The selection includes an array of mix of ales, lagers, stouts, and IPAs.
The laid-back ambiance is conducive to socializing, with a spacious taproom and plenty of outdoor seating. Although they don't serve food on-site, they are conveniently situated between the best BBQ in town from Moe's Original BBQ and mouthwateringly amazing wood-fired pizzas at World Piece.
Liability Brewing excels at creating a fun and welcoming experience, so add this brewery to your list!
Location details
Recommended beer: Mortal Wombat – IPA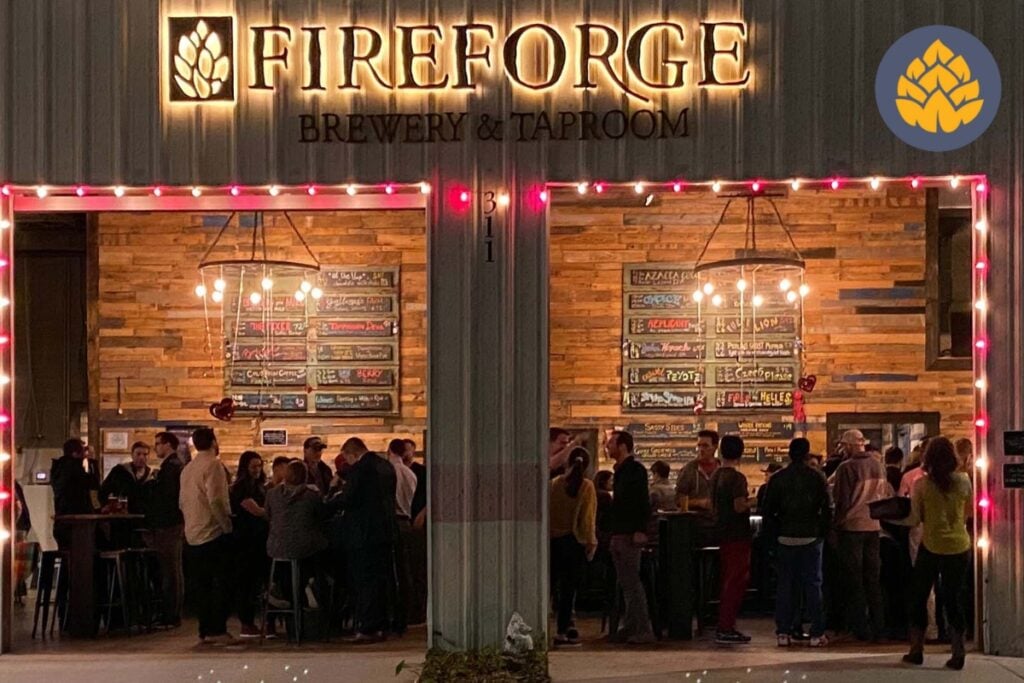 Nestled in Greenville's West End district, Fireforge Crafted Beer is more than just a brewery! It's a community hub that's known for its innovative and experimental brews. The brewery's founders, Brian and Nicole Cendrowski, bring a different perspective to craft beer with their emphasis on experimental ingredients and unique flavors.
Apart from innovative brews, they also offer a selection of light bites, like breads, cheeses, and meats sourced from local suppliers.
The tasting room and Biergarten provide the perfect setting to enjoy their well-curated selection of beers with friends and family or for private events such as birthday parties, baby showers, and corporate events.
Location details
Recommended beer: Raspberry Acai Berry Sour Ale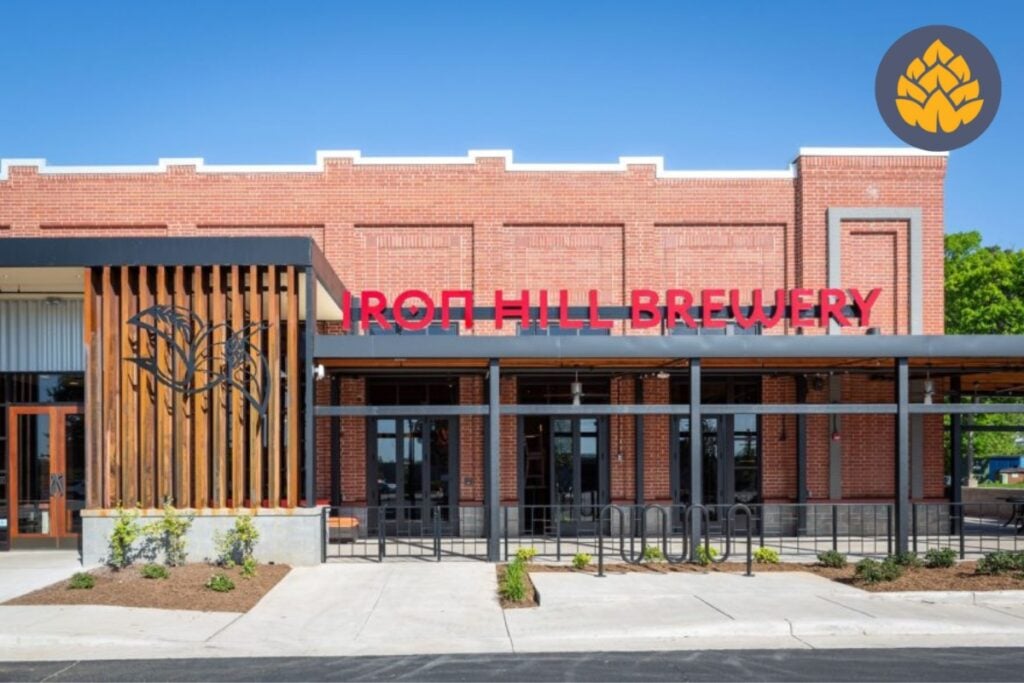 Up next is the multi-award-winning independent craft brewery Iron Hill Brewery & Restaurant. This local favorite hot spot for socializing with the community while drinking some of the finest beer east of Mississippi has won no fewer than 86 awards for their craftsmanship.
Favorite draft beers, like Bedotter made using traditional German brewing techniques, Iron Hill Light Lager, and Pig Iron Porter, have won multiple Great American Beer Festival and World Beer Cup awards.
The brewery also knows a thing or two about keeping the customers coming back with rewards points for every order and an Iron Hill members club for discounts, merchandise, and the latest release info.
Moving away from the brewing side of the establishment, they also have a restaurant serving tasty concoctions like grilled ribeye, seared tuna, and Homestead mussels. Plus, a wide range of white/red wines and signature cocktails to try for the folk who aren't into beer.
Location details
Recommended beer: Russian Imperial Stout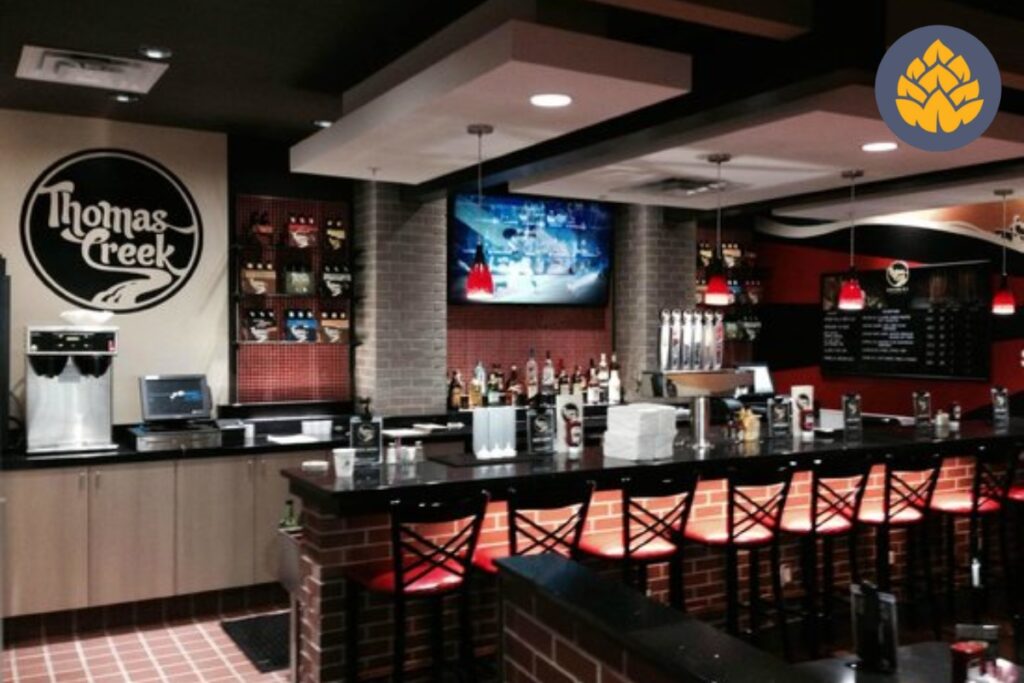 Thomas Creek Brewery has been a mainstay of the Greenville craft beer scene for over 20 years. Specializing in craft ales and lagers, the brewery is known for full-bodied, flavorful beers that have left a lasting mark on the Southeast beer scene.
The garage-style taproom has a relaxed and casual atmosphere that helps events like live music, yoga, and trivia nights feel more enjoyable.
Kids are welcomed here with plenty of entertainment, like pinball machines, dozens of board games, and a pool table available. Food trucks also make an appearance at the venue, providing good food for the visitors.
Location details
Recommended beer: Coffee Oatmeal Stout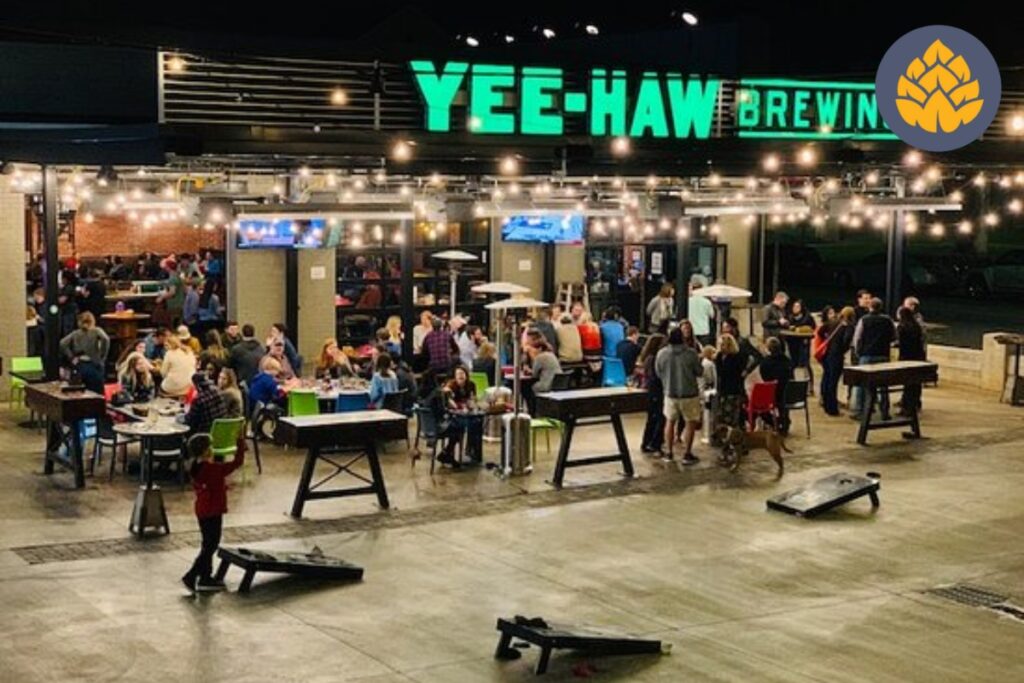 Located in the historic West End districts of Greenville, Yee-Haw Brewing Company stands tall as an innovative brewery, using different styles and techniques to create obscure beer flavors. This award-winning brewery has a clear mission: to make some damn good beer – and they definitely succeed at it!
Yee-Haw Brewing offers a spectacular choice of fine craft brews, from ales and pilsners to hefeweizens and dunkels, which will entice your taste buds. Their eight signature beers and seasonal selections have earned them high praise and won them awards at international beer competitions.
The taproom interior greets you with recreational shuffleboard, arcade machines, TV screens airing the latest sports games, and a vintage bar, providing an exciting atmosphere.
So gather your friends and family, sit in the beer garden patio, and indulge in an afternoon of beer tasting at this welcoming hangout spot!
Location details
Recommended beer: Their award-winning Yee-Haw Dunkel – German style lager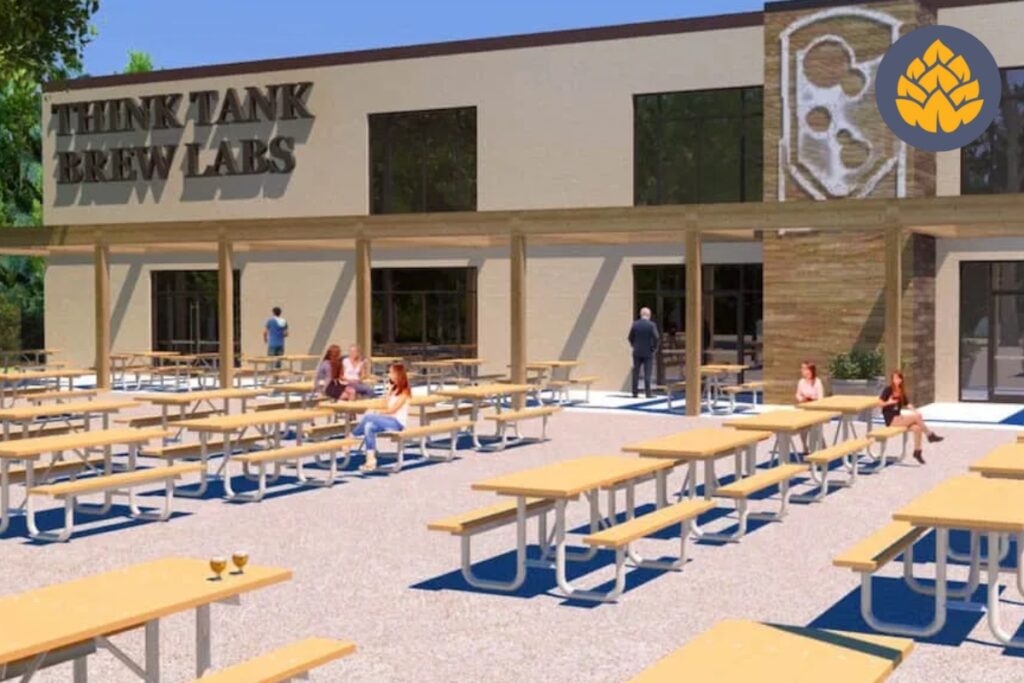 Out of all the local breweries on the list, Think Tank Brew Lab definitely boasts the largest outdoor area to relax and drink their exceptional draft beer.
Situated on the backdrop of beautiful greenery and plenty of picnic tables, it's perfect for camping and hosting parties. Live music and DJs are common here to entertain the crowd.
Food is also available at the local brewery, and although the food menu doesn't offer a wide variety of options, their pulled pork sandwich, Bratwurst hotdog, and $4 tacos are all you need when sipping their exceptional beers.
Location details
Recommended beer: Gold Blonde – Pale ale
Notable mentions
Swamp Rabbit Brewery & Taproom: North of Greenville in travelers rest is a great place to grab a beer for cyclists on the Swamp Rabbit Trail.
The Eighth State Brewing Company: Great beer, lively atmosphere, gigantic loaded pulled pork sandwiches and a convenient location.
Expert tip
When visiting Greenville, visit Falls Park on the Reedy. This stunning urban park is located in Downtown Greenville and is the perfect representation of the city's natural beauty and commitment to preserving green spaces.
Falls Park is unique due to its scenic beauty, a 40-foot waterfall, curved suspension bridge (Liberty Bridge), and beautiful landscaped gardens. It provides a peaceful and picturesque escape right in the heart of a bustling city.
The park is also surrounded by a wide variety of restaurants, shops, and local breweries, making it a central space in the city to relax, drink great beer, enjoy nature, and soak up some local culture.
FAQs
Which brewery has the most extensive indoor and outdoor area for private events?
Think Tank Brew Lab boasts the largest outdoor area for relaxation and private events in Greenville. It's perfect for Wedding engagement parties, birthday parties, and baby showers.
Which Greenville breweries have brewery tours?
Many breweries in Greenville give guided brewery tours of their brewing process. Liability, Birds Fly South, and Thomas Creek are just a few of the names on a Greenville brewery tour.
Which brewery specializes in Belgian-style brews?
Fireforge Crafted Beer and Iron Hill Brewery, with their emphasis on experimental ingredients and unique flavors, have a nice range of Belgian-style beers.
Related Local Breweries
If you're touring around and want to try more delicious beers from the best breweries in South Carolina or the best breweries in each city, check out our other articles
Wrapping up – best Greenville breweries!
Every city has its own personality and beer culture to brag about, and Greenville, SC, is no exception, offering a lush variety of brewery experiences for beer lovers to enjoy. So go out there, try some phenomenal brews, enjoy the charismatic city vibe, and don't forget to tell us about your Greenville brewery experience!