Best New England IPAs To Make Your Summer More Lively and Fun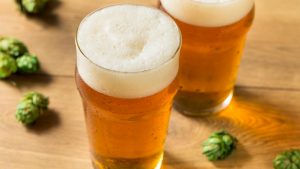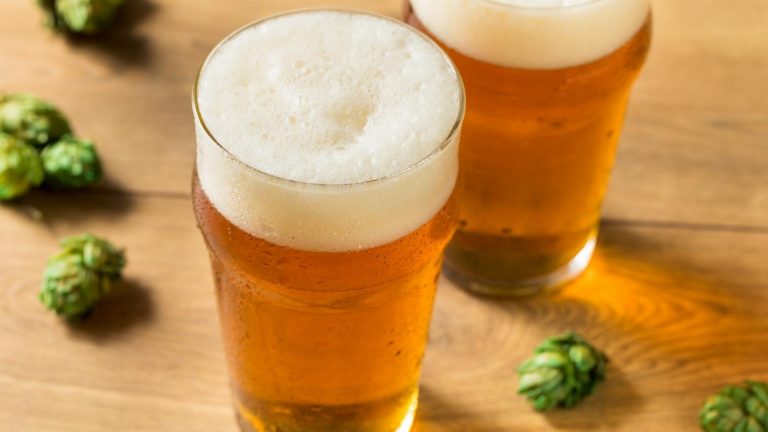 New England IPA (NEIPA) has replaced the popularity of previously important brew styles like American IPA. The New England beers are hazy and juicy with a balanced fruitiness. The tropically hoppy ales are easy to drink and usually come with a cloudy appearance.
In this article, we'll be taking an in-depth look at some of the best brands of New England IPAs.
Best New England IPAS
What are the top New England IPAS that you should get?
Our beer experts share the top nine best New England IPAS for you to try!
Two Roads' Two Juicy Double IPA
Craving for a good hazy beer?
The Two Roads Two Juicy Double IPA is one of the best sellers and well recognized for its flavors and style. The beer became an instant hit among beer lovers and is the fourth best-selling beer of the brewery. If you're not into extreme NEIPAs, then it's safe to say you will enjoy sipping on the Two Roads Two Juicy Double IPA.
The bitterness is properly balanced. Despite its name, the beer is not overwhelmingly juicy, rather, it offers a moderate juiciness that feels smooth on the palate.
The aromas of peach and pineapple add a fruity delight that is carried on the tongue as well. As for appearance, the Two Roads Two Juicy Double IPA has an unfiltered look due to the oats and wheat in it, lending it a pale yellow color.
This NEIPA is widely distributed so you won't have a hard time finding it near you. It is brewed with Mandarina Bavaria hops, Citra and Hallertau Blanc. The strong alcohol content of 8.2 percent present in this beer feels light during consumption.
Sierra Nevada's Hazy Little Thing IPA
Sierra Nevada does it right when it comes to IPAs, and we love their take on the NEIPAs as well! The Hazy Little Thing IPA from the same brewery is a popular beer that gives a medium-light mouthfeel.
A tropical ingredient blend with strong aromas of pineapple is complemented by the beer's juiciness. The hazy IPA is easily available, thanks to its national distribution that caught the limelight.
With an orange-gold color resembling a freshly squeezed orange juice, you will know that it's rich in flavor due to its opacity. The beer packs an alcohol content of 6.7 percent with 214 calories, so if you're on a diet, this hazy IPA can be a let down. The Hazy Little Thing IPA is made with Comet, Simcoe Citra, El Dorado, Magnum,and Mosaic hops that add a smooth finish and modest bitterness to the drink.
The cloudy or hazy appearance of the beer is due to the fact that it is less filtered and dry-hopped. If you're not into trying wild flavors but want a good hazy IPA, you can certainly rely on the taste of Hazy Little Thing IPA. Tracing back to its beginnings, the Sierra Nevada Pale Ale was first introduced in California during the 1980s.
Tree House Brewing Company's Julius
Julius is often found in the top 10 list of the best NEIPAs in the world, and its immense popularity is justified by its excellent flavors. The magical recipe to brew this beer is top secret, but by tasting it you can easily identify the flavors.
The pronounced and balanced bitterness of Julius is what makes it so remarkable. It's juicy, it's hoppy, it's fruity, but it's also much more than that.
The malt is at the core of its flavors with hints of orange, mango, passionfruit, citrus and vanilla. At 6.8 percent alcohol content and brewed with American hops, Julius offers a hazy orange appearance and leaves a white foamy head when poured.
On the nose, this NEIPA offers a mix of aromas of tangerine, orange and mango, all that reminds you of summer and a refreshing taste. With medium carbonation and a soft finish, you will be glad you chose to drink this beer.
This beer is easy to drink, tastes unbelievably fresh and you would definitely reach for more once you're done with your first can.
Rogue's Batsquatch Hazy IPA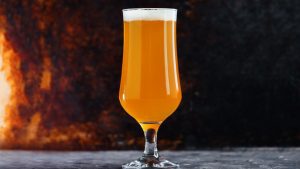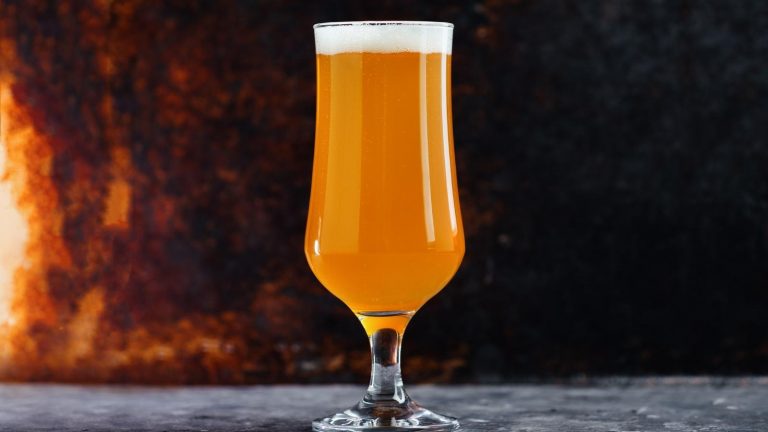 If you don't want to wait in the queue to get your New England style IPA directly from the beer tap of a brewery but still want fantastic flavor, you've got to try Rogue's Batsquatch Hazy IPA. The brewers of this beer have found an interesting technique that elongates the shelf-life of the hazy IPA so it can be easily shipped to other countries.
Even though this beer is relatively new in the market of NEIPAs, there's always room and appreciation for perfectly balanced hazy IPAs. Tropical fruit lovers will not be disappointed as the beer packs citrusy freshness of mimosa-fruit flavors.
This hazy IPA leaves a well-rounded mouthfeel with undeniable juiciness hopped with Belma, Mosaic and El Dorado. Rogue's Batsquatch Hazy IPA is widely available throughout the year, so you can have it whenever you want.
In terms of appearance, the NEIPA is hazy orange and leaves a white foam head after being poured. The tropical aromas of papaya, lemon and mango are quite pronounced in the carbonated drink.
Try this for a delicious, fruity NEIPA that is as refreshing as something straight from a beer tap!
WeldWerks Brewing Company's Juicy Bits
Even though it looks like orange juice, Juicy Bits offers much more than just an orangey flavor. This NEIPA is packed with aromas of candied orange, grapefruit and mango. It's very juicy with a soft body that just melts in the tongue. Hopped with Mosaic, El Dorado and Citra, you'll get additional pulps in Juicy Bits for a premium taste of NEIPA.
This beer has a strong malt body that packs 6.7 percent alcohol. When poured, it offers a golden, almost yellowish orange color that tastes and feels refreshing. The NEIPA is well balanced with a distinctive hop character and malty sweetness.
This hazy IPA has become a popular choice in America for its exclusive juiciness and easy-to-drink characteristics. The NEIPA offers a mouthfeel with good carbonation that ends in slight dryness. WeldWerks Brewing was founded in a garage in 2009 by Neil Fisher, so you know that a lot of passion has been poured into their every drink.
Hill Farmstead Brewery's Susan
Susan is one of a kind, with such an exclusive taste that you won't find in most other NEIPAs. Unfortunately, Susan is not widely available so you will have to get to the tap to taste the special flavor of this unique hazy IPA.
It is considered as one of the pioneers of the NEIPA style that tastes supreme when fresh. The star ingredient of Susan is the Riwaka hop that adds an explosive and unique character to the NEIPA, which is also why it tastes so different from most other NEIPAs you will find in your local store.
As soon as you take a sip of this hazy IPA, you will be welcomed with a delicate mouthfeel that finishes with a hop bite at the end. On the nose, you might come across the pronounced exotic flavors of tropical fruits and citrus.
It's deliciously juicy with a lingering taste that would make you want to drink more. The dark orange color of the hazy IPA is complemented with a thick and white foamy head that sits on top of it when poured into a beer glass.
The alcohol content is relatively low in Susan, sitting at only 6 percent as compared to the other hazy IPAs on our list. Pick this NEIPA if you want to taste one of the best of its style.
Cerebral Brewing's Rare Trait
Cerebral Brewing knows how to brew the most delicious NEIPAs that are rare to find, hence the name of this drink. This hazy IPA contains 6.4 percent alcohol along with malts of wheat, oats, pilsner and more.
Rare Trait is a flawless mashup of the finest flavors you could ask for in a NEIPA, topped with a refreshing aroma. The creamy and velvety mouthfeel feels premium in the mouth.
Thanks to the combination of different hops including Azacca, El Dorado, Citra, Columbus and Mosaic, this NEIPA is definitely one of the best out there. On the nose, the Rare Trait offers tropical and citrusy notes of a little mango, tangerine, grapefruit, pineapple and mostly passion fruit. The soft bitterness and toasty malt is well balanced and you will know that once you sip it.
When poured in a glass, the Rare Trait has a distinctive hazy opaque orange, almost golden color with a very small head. This New England style beer is simply delicious even when paired with food. The hazy IPA finishes off with a smoothness, making you want to reach for more, but the only way to taste this flavor-packed NEIPA is at their brewery located in Denver, Colorado.
Belching Beaver Brewery's Digital Bath Hazy IPA
As one of the most drinkable NEIPAs available in the market, Digital Bath by Belching Beaver Brewing Co. is a great pick. The flavors are neither too overpowering nor underwhelming, which allows you to drink more of it without getting bored of the taste. The alcohol content of the beer is moderate at around 6.5 percent.
If you enjoy sipping on cold beer during the summer, Digital Bath is all about refreshingly fruity tastes. As you pour this IPA into a beer glass, you will be instantly introduced to aromas of pine resin, orange juice, mint, vanilla and pineapple.
The IPA is brewed with various malts and is hopped with Simcoe Cryo, Citra, Nelson, Mosaic and Galaxy. The taste slowly grows on your taste buds as you drink more, while the lack of extra bitterness is an advantage, leaving less of an aftertaste.
Digital Bath Hazy IPA has a very light golden, yellowish orange appearance with a little cloudiness. The brewery of Digital Bath specialty IPA is located in California, USA.
Samuel Adams' Wicked Hazy Juicy New England IPA
If you're looking for one of the best New England beer brands, then try the Wicked Hazy Juicy New England IPA from Samuel Adams. The Boston beer company is widely popular for its craft beers, so you are guaranteed to taste unique and premium flavors.
Samuel Adams did it right with their take on the NEIPA as Wicked Hazy Juicy is all about tropical fruity flavors and aromas. While sipping it, you will immediately taste the enhanced fruitiness of the IPA with punches of orange, pineapple and mango.
This smooth IPA is full of flavors that finishes off clean. The fruity part of the IPA can feel a little mellow on the tongue, but we love that the bitterness is well balanced. With a variety of malts in its ingredients list, this IPA is hopped with Mosaic, Galaxy, Citra, Cascade and Simcoe. You will enjoy the warm golden-yellow color of the IPA that appears a little cloudy when poured, leaving a slight head.
New England IPAs — NEIPA
NEIPAs are also known as hazy IPA (India Pale Ale) by the Brewer's Association. Since its discovery, New England beer brands have blown up all over the world.
The hazy IPA leaves a creamy mouthfeel and the taste of strong hop varieties. An extensive use of Galaxy (Australian hops) and Citra (fruity American hops) by major brewers enhances the flavors, complexity and juiciness of the New England beers, and the sweet and soft body of NEIPAs are simply irresistible.
New England breweries like Lawson's Finest Liquids, The Alchemist and Tree House have made the New England IPAs very famous. A big number of breweries in the United States, as well as around the world, are brewing these new styles of ales with their own versions and recipes.
Now that so many breweries and beer brands have their NEIPAs widely available, you might be bombarded with seemingly unlimited options.
Summing Up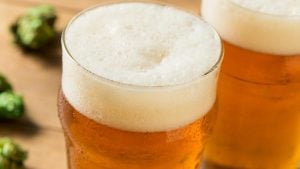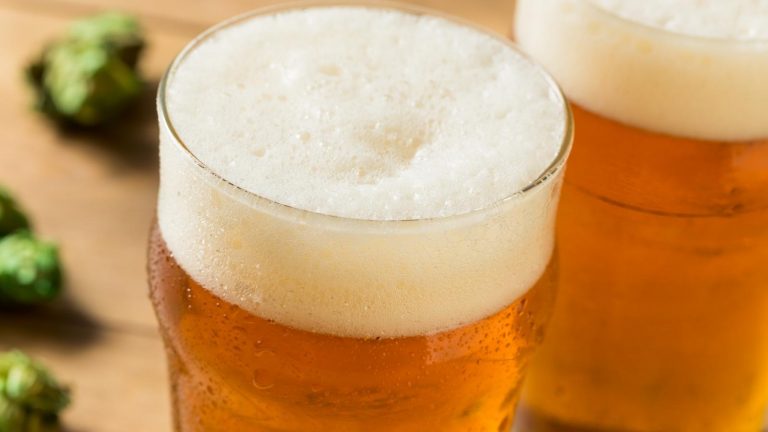 From Two Roads Two Juicy Double IPA to Wicked Hazy Juicy NEIPA by Samuel Adams, our expert-curated beer list will guide you to try the best NEIPAs available in the market. The tropical, fruity and punchy flavors balanced by malty sweetness, hop bitterness and a moderate alcohol content, is an all-around flavor experience for beer lovers.
NEIPAs are also known as hazy IPA (India Pale Ale) by the Brewer's Association.
New England beers are hazy and juicy with a balanced fruitiness.
The tropically hoppy ales are easy to drink and usually come with a cloudy appearance.
The hazy IPA leaves a creamy mouthfeel and the taste of strong hop varieties.
A big number of breweries in the United States, as well as around the world, are brewing these new styles of ales with their own versions and recipes.
The wide availability of most of the IPAs on this list means you can sip on delicious New England beers all year long. If you crave refreshing and exciting flavors, you're missing out on all the fun without trying New England IPAs.