Cold Smoke Beer Review: Try Out This Rich and Tasty Scotch Ale
Cold Smoke Beer is an award-winning flagship beer from the popular Kettlehouse Brewery. The dark and smooth Scotch ale offers a delicious and smoky flavor of chocolate and toffee with a sweet coffee finish.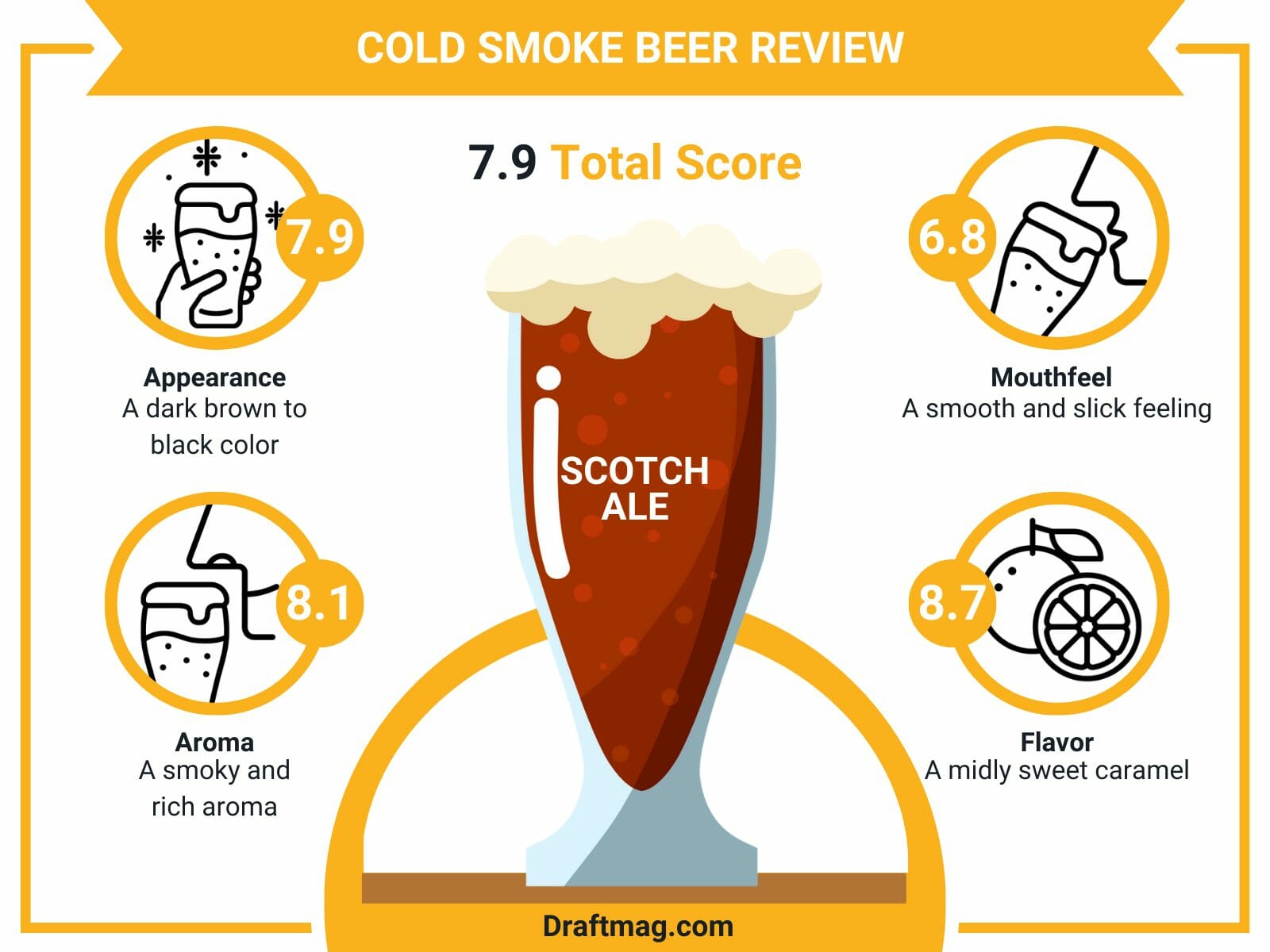 Enjoy this smooth and rich ale whenever you need a warm beer for the winter days. Our Cold Smoke review covers all you need to know about this ale, so continue reading below.
Cold Smoke Beer Stats
| | |
| --- | --- |
| Country  | United States |
| Brand | Kettlehouse Brewing Company |
| Style | Scotch Ale |
| Taste  | Caramel, coffee |
| Body | Full Body |
| ABV | 6.5 percent |
| Flavors & Aromas | Caramel, toffee, coffee, roasted malt, smoky |
| Serving Temperature | 50 – 55 degrees Fahrenheit |
Tasting Notes
Cold Smoke Beer Tasting Profile
Cold Smoke Beer Review
Cold Smoke is a scotch ale with a 6.5 percent alcohol content. The beer is made by Kettlehouse Brewery and has won the most awards among their beers. It pours a dark brown color with a smooth and full mouthfeel. The beer has flavors and aromas of chocolate, caramel, toasted malts, toffee, and coffee.
Serve the Cold Smoke ale in a thistle glass, a uniquely shaped glass that looks like a tulip glass. It is longer with a pronounced bulb shape at the bottom and is designed for scotch ales. The right temperature is from 50 degrees Fahrenheit to 55 degrees Fahrenheit. The beer goes well with rich and fatty meats.
The Cold Smoke ale is the perfect beer to have when eating a rich meal or if you need something warm for a cold winter day.
– Appearance
The Cold Smoke ale pours a dark brown to black color into your glass.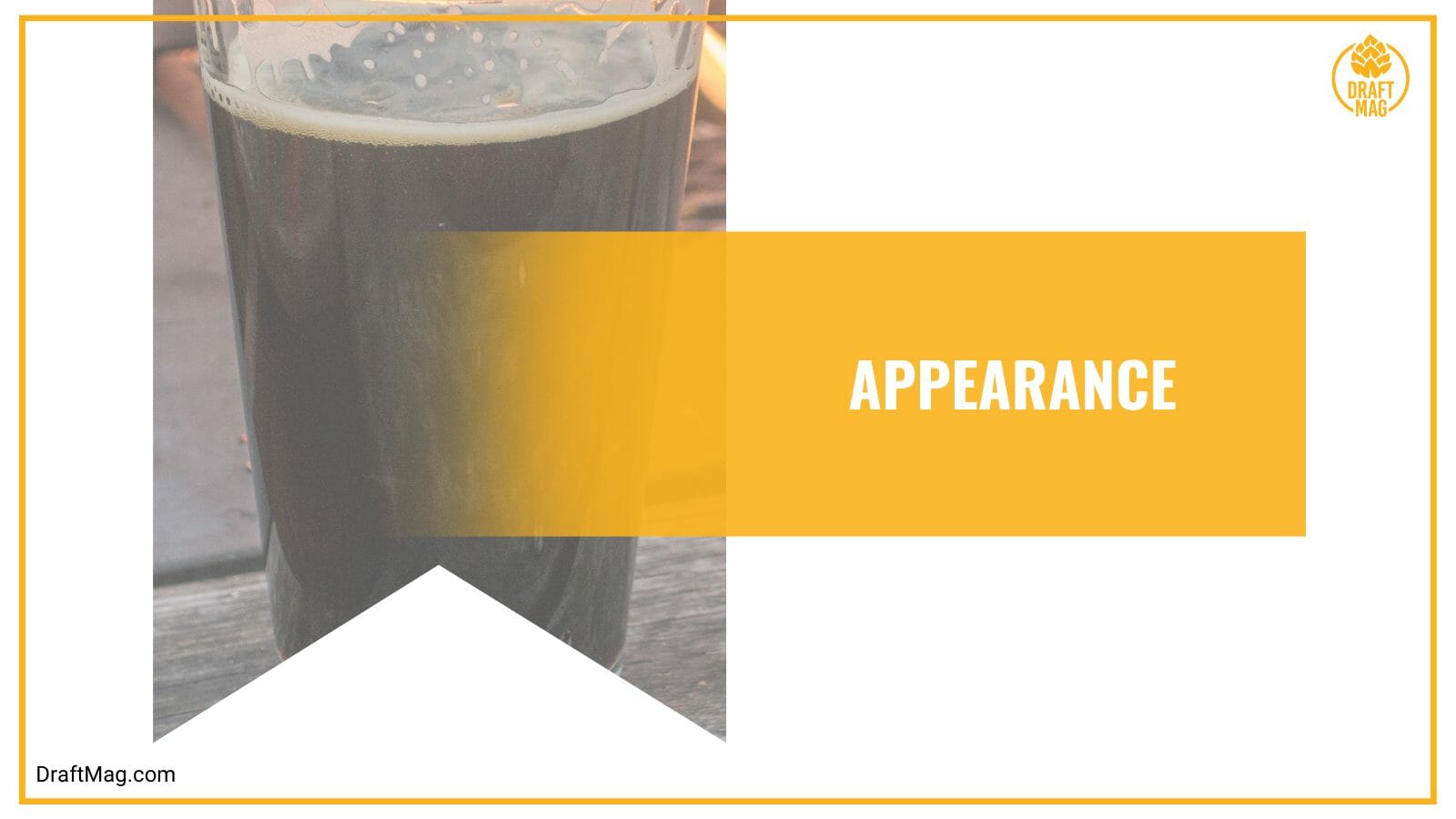 On top of the beer is a small foamy and bubbly tan head that dissipates quickly and leaves barely any lacing behind. The khaki-colored head leaves some sticky lacing behind.
– Aroma
On the nose, you will notice a smoky and rich aroma with a light and subtle scent. You will notice the aromas of milky chocolate, roasted bread, roasted malt, toasted caramel, and smoky peat. There are also hints of coffee. The aroma becomes lighter as the beer warms up.
– Mouthfeel
As for the mouthfeel, the Cold Smoke ale has a smooth and slick feeling against your palate. The beer is rich and creamy, although a bit watery for its style. It drinks very easily with a smooth and dry finish. The carbonation is prickly too, and there is no alcohol warming.
– Flavor
As for the flavor, the Cold Smoke brew starts with a mildly sweet caramel flavor that follows the aroma. After this is a nutty and cold-brewed coffee flavor with no bitterness in the taste. You will also get a delicate smoky flavor when drinking, as the name implies.
The beer is definitely roasty, and there is a dialed-back raisin flavor. The malts offer flavors of caramel, coffee, toffee, and roasted grains. It generally tastes smoky, sweet, and smooth, with slight hints of dark fruits and vanilla. There are no hops found in the flavor or aroma of this beer, but there is a good level of caramelized sugars.
– Food Pairings
Cold Smoke pairs well with different kinds of foods, but you should definitely go for meaty, rich, and flavorful dishes. The strong characteristics of the beer go well with grilled lamb, roast pork, smoked salmon, or gamey meats like quail and pheasant.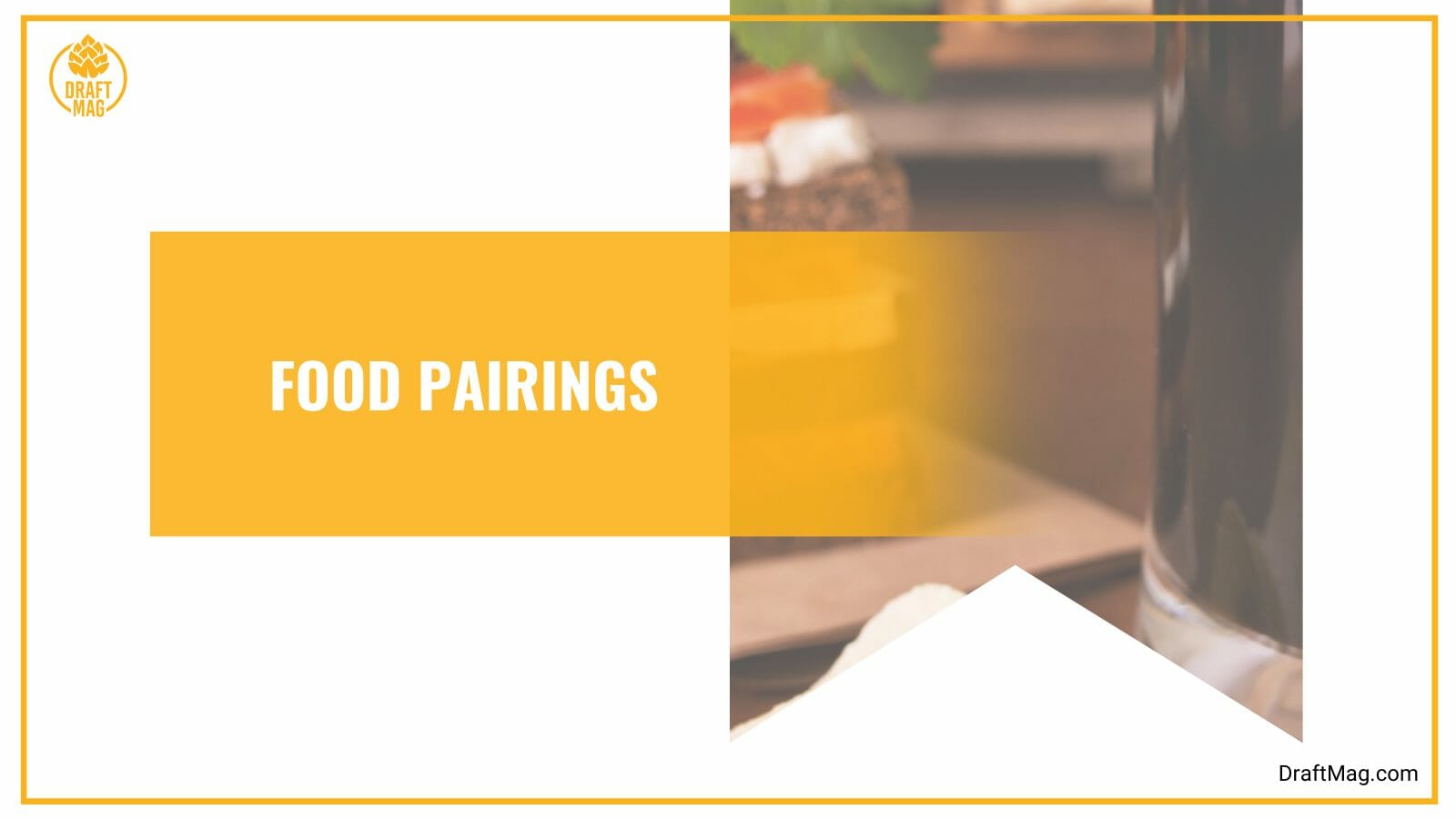 Spicy Mexican dishes also work well with this beer, as well as traditional Scottish cuisine. Pair the beer with malty and sweet foods that will linger on your palate. Roasted, smoked, and braised meat and fish are fantastic pairings, as well as bread-based foods. Go for pizza, toasted bread, sandwiches, and more.
Satisfy your sweet tooth with any dessert that has dark or milk chocolate, caramel, or toffee. Choose a rich dessert that will complement the chocolate and coffee flavors of the beer. If you enjoy cheese, have some smoked cheese with this beer. Try out a smoked gouda, which will stand up to its full-bodied flavor.
Ingredients
The Cold Smoke ale is a delicious craft beer made with high-quality ingredients. The beer is brewed with malted barley that is grown in Montana, hops from the Yakima Valley, and pure water from an aquifer in Missoula. Cold Smoke is malt-forward, offering flavors of chocolate, coffee, toffee, and raisins. The hops are barely present in character.
Nutrition Facts
Cold Smoke features a 6.5 percent alcohol content that is barely present in character. There is no alcohol burning. There are 11 IBUs in the beer, as there is barely any bitterness or hoppy flavors in character.
In one pint of beer, there are 293 calories, which is a pretty high level. There are also 20 grams of carbs in the one-pint serving. The beer is not ideal for those on a keto diet due to the high carb content, and it is not gluten-free.
History
Cold Smoke is brewed by Kettlehouse Brewing Company and was first released in 2002. It is their flagship beer and has won the most awards out of all the other beers. The beer is named after the light powder that falls in Montana, craved by skiers and boarders alike. It is also called gateway beer.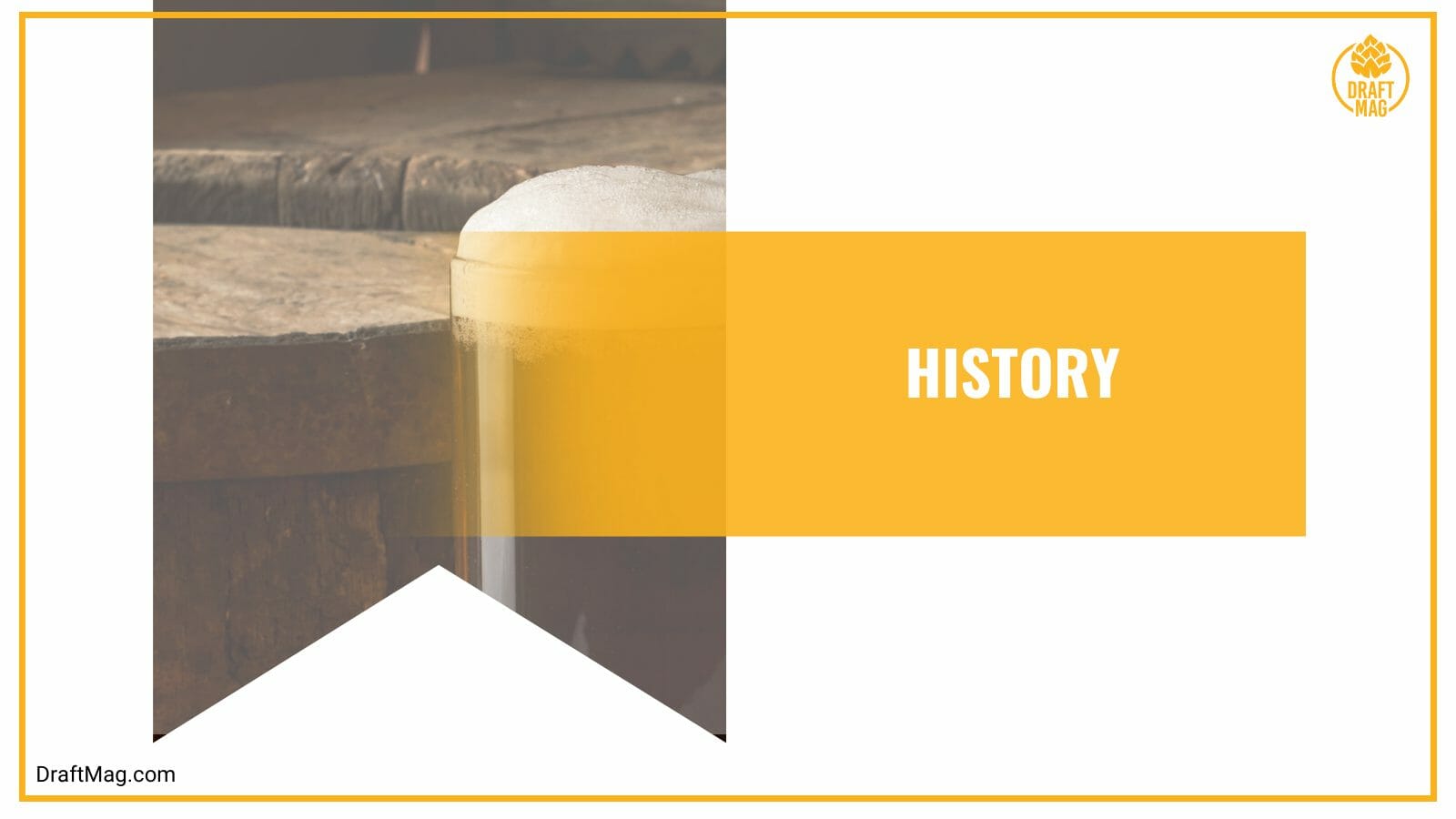 One of the top breweries in Montana, Kettlehouse is known for its commitment to the environment. They use their spent grains as animal feed for local farmers and offer recyclable cans.
Conclusion
If you're looking for a delicious ale to drink with sweet flavors and a rich character, then Cold Smoke beer is the ideal choice. Here is a rundown of our Cold Smoke review:
Cold Smoke Scotch ale has a 6.5 percent alcohol content from Kettlehouse Brewing.
The beer has flavors and aromas of chocolate, toffee, coffee, caramel, and sweet malts and offers a smooth, rich body.
It is made with malted barley, hops, and water.
Serve it in a thistle glass with a temperature ranging from 50 to 55 degrees Fahrenheit.
The beer goes great with meaty, smoked, braised, and roasted foods, smoked cheese like gouda, and sweet desserts with chocolate, caramel, and toffee.
Fulfill your curiosity about the Cold Smoke ale by purchasing it from the Kettlehouse taproom. It is sold in one-pint cans and on draft, so take your pick today!