Best Fort Myers Breweries: Top Brewpubs You Have To Try in Florida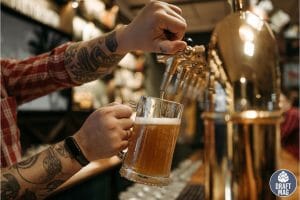 These are the best Fort Myers breweries that our experts have compiled. The craft brewing wave arrived in Florida somewhere around late 2012, which is the reason why there are new breweries opening up every year in this region.
Experience the craft brewing culture in a laid-back vibe that defines Fort Myers, Florida. Check out thislist of the top breweries in and around the area.
| | | |
| --- | --- | --- |
| Best Fort Myers breweries | Number of Active Beers | ABV (Lowest-Highest) |
| Fort Myers Brewing Co. | 22 | 3.9 – 11.2 percent |
| Coastal Dayz Brewery | 16 | 4 – 8.2 percent |
| Millennial Brewing Co. | 14 | 4.9 – 10 percent |
| Point Ybel Brewing | 22 | 5 – 14 percent |
| Palm City Brewing Co | 18 | 4 – 8.7 percent |
| Crazy Dingo Brewing Company | 12 | 4 – 7.2 percent |
| World Of Beer | 8 | |
| BJ's Restaurant and Brewhouse | 16 | 3.5 – 8.6 percent |
| Scotty's Bierworks | 15 | 4.8 – 8 percent |
| Big Storm Brewery | 23 | 3 – 11 percent |
| Ford's Garage | 21 | 4 – 7.5 percent |
Best Breweries in Fort Myers, Florida
Fort Myers is all about beaches, baseball and the best of the Southwest Florida vibe. Lee County contains areas of Fort Myers, the main beach, Boca Grande, Bohemian Pine island and more.
Whether you enjoy juicy IPAs or classic Belgian Wits or beers with a burst of tropicalness, Fort Myers has something for everyone. Here is the ultimate list of some of the best Fort Myers breweries you absolutely cannot miss.
– Fort Myers Brewing Company
This brewery is set out as a warehouse brewing in Southwest Florida. They have a dog-friendly area and a small outdoor space that makes it a good spot for hosting small events and get-togethers. Their beers are absolutely upbeat and fun to drink.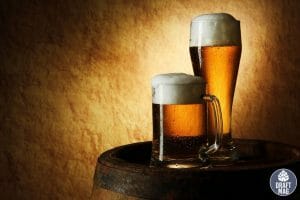 Keep an eye on their social space to stay up-to-date about their upcoming events and games. They have events like bingo nights, DJ nights, live music, burger nights and more. The brewery also makes spike Seltzers for non-beer lovers. They also allow you to bring your own food.
Their Must-try Beers
Strawberry Rhubarb Gose is a tropical beer brewed at 3.9 percent ABV. It has a burst of flavors of cherry, strawberry, peach and citrusy notes.
Summer Beer Fest Lager is a classic American Lager brewed at 5.0 percent ABV. It is extremely crisp, breezy and has a clean finish with a light mouthfeel. Their Gateway Gold is another unmissable Blonde Ale brewed at 4.1 percent ABV.
– Coastal Dayz Brewery
This brewery is located in Downtown Fort Myers with a beach under 30 minutes away. The brewery has a coastal life setting and is everything about winding up a long work week or simply dropping by to enjoy the warm coastal winds and seagull sounds.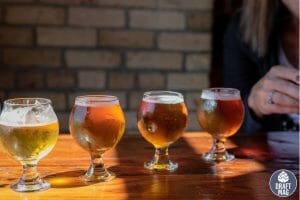 They are a microbrewery with 16 taps that feature Hazys and Lagers and Hop-forward beers. They have small outdoor seating and are a pet-friendly place. There is a lineup of outside food vendors who provide delicious finger food.
Their Must-try Beers
Starboard Sour Cherry Vanilla Milkshake, brewed at 4.2 percent ABV, is a beer with a burst of cherries and lactose. The vanilla flavor makes it even more refreshing.
Their Summer Sippin Spruce Tip Pilsner brewed at 5.0 percent ABV is a seasonal release. It is a refreshing beer that is light, crisp and goes perfectly with the Florida weather.
– Millennial Brewing Company
Millennial is the most renowned brewery for world-class Florida beer. This brewery is all about quality, technology and multi-tasking. They believe in brewing beers that are of the highest quality and use the best technology. They not only brew artisanal craft beers but also make cava, elixirs and non-alcoholic alternatives.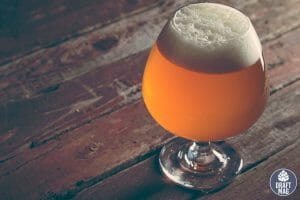 Their taproom has a pool table, beer pong and some board games, enough to keep everyone entertained. Every day of the week, they host a food truck that invites a large footflow.
Their Must-try Beers
Just Tap It In is a classic American Lager brewed at 4.9 percent ABV. It is a refreshing summer beer that goes on the side of almost any dish.
The Chocococonut is a delicious Milk Stout brewed at 8.1 percent ABV. It has an overload of chocolate malts and flavors and light notes of coconut.
– Point Ybel Brewing
This brewery is pronounced as "eee-bel." They strike the right balance between the art and the science of brewing. The brewery started operating in 2013 where the brewer only believes in serving beers that he would enjoy drinking. Their beers have won multiple awards at various beer events.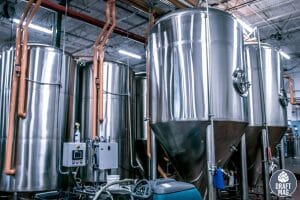 They are famous for their Lagers but offer something for everyone through their diverse tap list. The bar is a homey little space that has a welcoming vibe with picnic-style tables spread all across the space.
Their Must-try Beers
Blueberry Session Sour is a Sour brewed at 5.0 percent ABV. It has a nice burst of blueberries that give the beer its bitterness and is overall crisp and clean beer. The Pineapple Snook Bite IPA is their flagship American IPA brewed at 7.2 percent ABV. It is brewed with fresh, juicy pineapples and has a high IBU.
– Palm City Brewing Company
This brewery started out as a hobby that soon turned into a passion and is now a full-time business. From a garage homebrewing set up to a large craft brewery, today Palm City welcomes everyone from non-beer drinkers to craft beer lovers.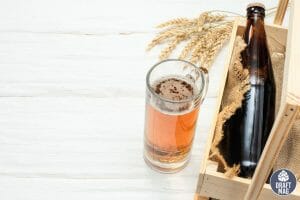 They have an indoor bar that has large tables, bar sitting, and big flat TV screens for those fun game nights. They take pride in brewing the best Porters and New England IPAs.
Their Must-try Beers
Summer Staycation is a fruit beer brewed at 4.0 percent ABV. It is flooded with flavors of passionfruit and peach making it an excellent summer beer. Hazify + is a New England Double IPA brewed at 8.0 percent ABV. This beer is all about being hoppy, strong and crisp.
– Crazy Dingo Brewing Company
This is located in the Central Fort Meyers area and is part of a hidden farm. They have an outdoor space perfect to hang out in small groups. Their entire brewery is outdoor and has a small stage for live performances, a cozy bar area and plenty of open, breezy space. Most of their ingredients are grown on-site.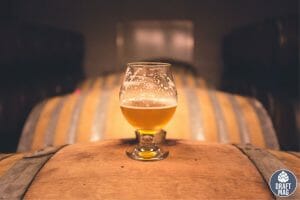 They are located on a farm, which means they grow their own fruit. This is why the brewery is widely popular for its fruit-infused beers. The brewery has farm animals that make it family and kids-friendly. It is also a dog-friendly brewery and kids are often found feeding and playing with these animals.
Their Must-try Beers
Farmtoberfest is a classic Oktoberfest Marzen brewed at 5.9 percent ABV. It is a rich German beer that is equally refreshing and light on the mouth. 3-Year Hazy IPA is a classic brewed at 6.8 percent ABV. Like other Hazys, this beer is also extremely hoppy and juicy and has some delicious citrus and light tropical notes.
– Eight Foot Brewing
This brewery isn't exactly in Fort Myers but is under 15 minutes away tucked into the other side of the river in the Cape Coral area. They are a small batch brewery that produces high-quality beer paired alongside homemade food.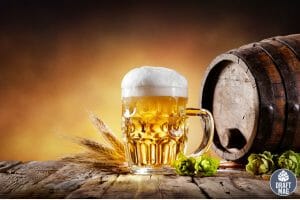 They are an independent brewery that actively hosts events for fundraising by collaborating with local NGOs and charities.
Their Must-try Beers
Tropical Lager is their most famous beer. It is brewed with 100 percent Vienna malt, making it a classic German Lager that is easy to drink with a light mouthfeel.
– Smokin Oyster Brewing
They are a bar, a restaurant and a brewery. This three-in-one combination makes it one of the most exciting places to chill in the Fort Meyers area. This is one of the many breweries in Fort Meyers beach. With a view of the overlooking sea and breezy winds, this brewery is a magnet for the youth.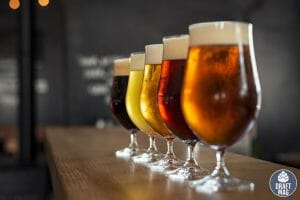 This is also one of the best Fort Myers breweries with food. They have a widespread menu of seafood options, a full liquor bar with classic cocktails and an extensive tap list of both in-house and guest beers.
Their Must-try Beers
The Beach Brew IPA is the perfect IPA for their setting. It is fresh, juicy, hoppy and an easy drink. Their Belgian Style Wit is a class Witbier brewed with the best quality Belgian malts and hops to bring out the right balance for a medium-bodied beer.
– Scotty's Bierworks
This is one of the largest Cape Coral breweries. Established in 2017 and located right outside of the Fort Myers area, Scotty's has been brewing some of the best and most delicious beers in the city. Their taproom is very minimalistic designed with subtle interiors and simple furniture.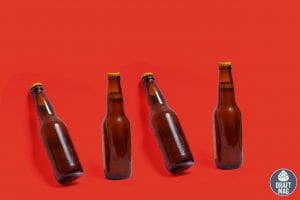 They host countless events over the week and have a new food truck almost every day of the week. You can check this Fort Myers brewery food truck schedule on the calendar on their website or social media pages.
Their Must-try Beers
English Ale is their newest addition to their tap list. At an ABV of 5.2 percent, this beer is light and super breezy to drink on a warm summer day. The Double Hazy IPA is yet another brilliant brew from these folks. It is a classic Hazy IPA at 7.8 percent ABV. It is juicy, hoppy and has a medium body.
– Big Storm Brewery
Big Storm was founded in 2012 and is one of the most famous breweries located across Fort Myers beach. They are now spread across four locations. This brewery brews some of the best Florida favorites that shout everything tropical and fruity. They believe in creating beers that are rich in experiences.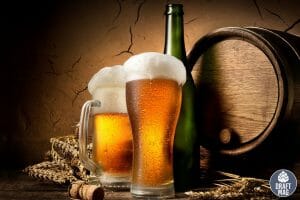 They build experimental and authentic recipes that are high in quality and mirror the classic Florida lifestyle. Their brewery is a lovely spot to hang out and has a full drinks menu apart from their beer selection and a pub-grub food menu. They brew with all-natural ingredients and completely avoid extracts and artificial flavors.
Their Must-try Beers
The Maple Run Barrel Aged Huracan is a heavy Imperial Stout brewed at 11 percent ABV. This beer is aged for up to six months in Jamaican rum barrels and has a complex body of dark chocolate, espresso and light maple syrup to bring a light balance.
The Cherry Margarita Gose is a classic Sour at 4.3 percent ABV. This beer has a tart combination with flavors of cheery and lime and is more inclined towards the sour side.
– Ford's Garage
This is a hyped-up and upbeat spot for beers and burgers. They are a gourmet burger bar serving the best beef, chicken and vegetarian burgers. Ford's Garage is spread across multiple locations, but Fort Myers makes up for the best. They have over 15 beers on tap and offer up to 150 local and commercial craft beers, both tapped and canned.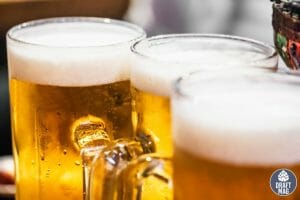 They have a service station-themed restaurant and bar with old-school antique cars, gas pumps and fixtures on display. These are in honor of Henry Ford. They serve everything from IPAs to Stouts to Ales and Ciders. They also serve a good selection of wines and cocktails and all-natural aged cheeses.
Conclusion
The summer months are a fan favorite for Floridians and tourists from across the country as they flock around the beaches and open bars for cold, tropical beers. Fort Myers has a wave of breweries and this is the ultimate list to plan your Fort Myers brewery tour.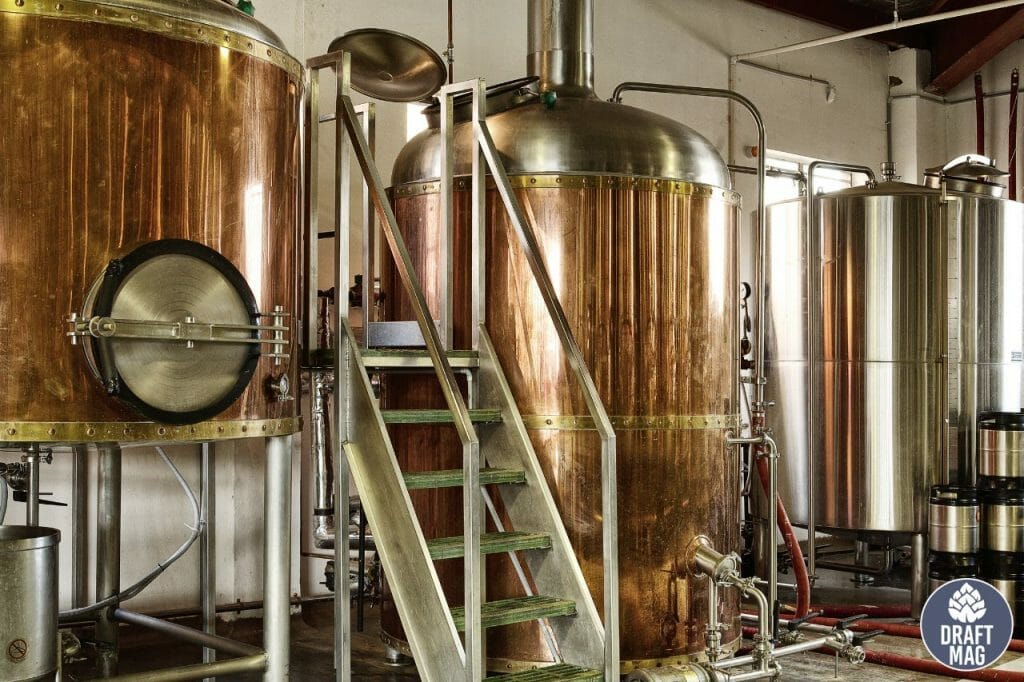 Smokin Oyster is one of the best hangout bars and breweries on Fort Myers beach. They even have a delicious spread of both pub-grub and seafood options.
Locals here enjoy tasty tropical beers flooded with oranges, key lime, pineapples and lemon and Fort Myers Brewery and Big Storm are the best breweries to enjoy a wide tropical section.
The American Wheat by Fort Myers Brewing Co. is an all-time classic that shouldn't be missed by any craft beer lover.
So, what are you raising your glasses to? Which brewery are you planning to start your beer tour with?