Sierra Nevada Powder Day Review: Shimmery and Fruity IPA
Sierra Nevada Powder Day is a vibrant American IPA that has impressed beer lovers around the country with its unique ingredients and shimmering appearance. The beer is made with diverse hops and lupulin powder, which gives it a fruity and delicious taste.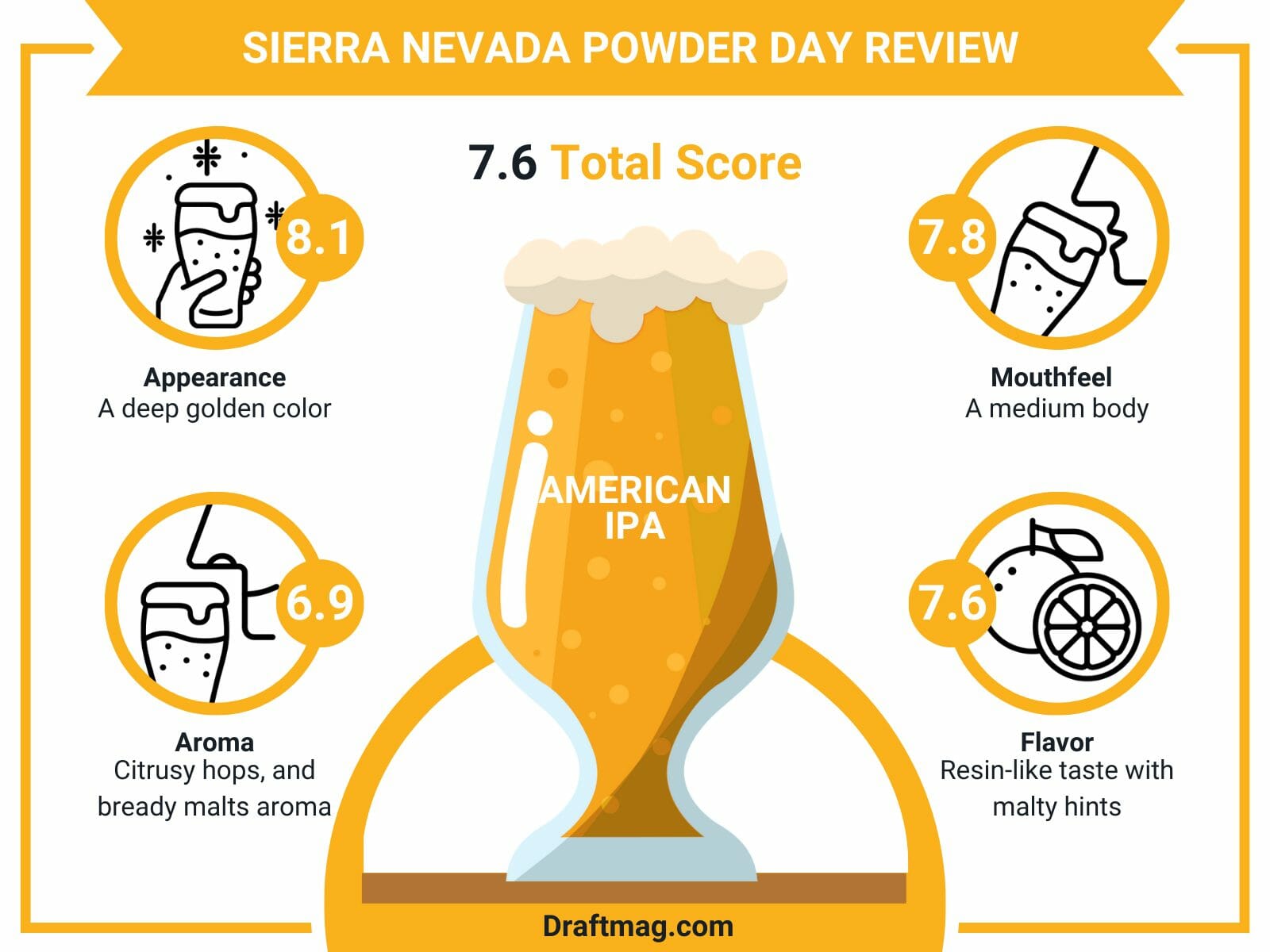 Ideal for pairing with fruity desserts and spicy foods, the IPA goes great on any occasion. If you're curious about what this shimmering beer tastes like, you should read our detailed review before taking your first sip. 
Sierra Nevada Powder Day Stats
| | |
| --- | --- |
| Country  | United States |
| Brand | Sierra Nevada Brewing Company |
| Style | American IPA |
| Taste  | Citrus, pine |
| Body | Medium Body |
| ABV | 7.7 percent |
| Flavors & Aromas | Citrus, oranges, pine, grapefruit, stone fruit, melon, tropical  |
| Serving Temperature | 45 – 50 degrees Fahrenheit |
Tasting Notes
Sierra Nevada Powder Day Tasting Profile
Sierra Nevada Powder Day Review 
Powder Day IPA is an American IPA made by Sierra Nevada Brewing Co. The strongly hopped pine flavor is known for its complex character and its pleasing body that will appeal to any ale lover. It features an alcohol content of 7.7 percent, which is well-masked through the aroma and taste. 
The beer has a massive off-white head on top of it and a medium body. There are flavors and aromas of citrus, pine, oranges, grapefruit, stone fruit, melon, and tropical fruits, with a pleasant hoppy overload that impresses your tongue. It has a west coast style IPA feel and a drying finish.
To get the most out of the IPA, serve it in a goblet or chalice which has a bowl shape and a stem. The large opening of the glass holds the foamy head and shows off the color of the liquid. The ideal serving temperature of the beer is from 45 to 50 degrees Fahrenheit, with a lemon slice to garnish. 
– Appearance 
On the pour, the beer has a deep golden color that leans towards bronze orange and features a very hazy appearance that you can barely see through. The haziness is the first thing you will notice when pouring, and it later clears up to show off the golden appearance.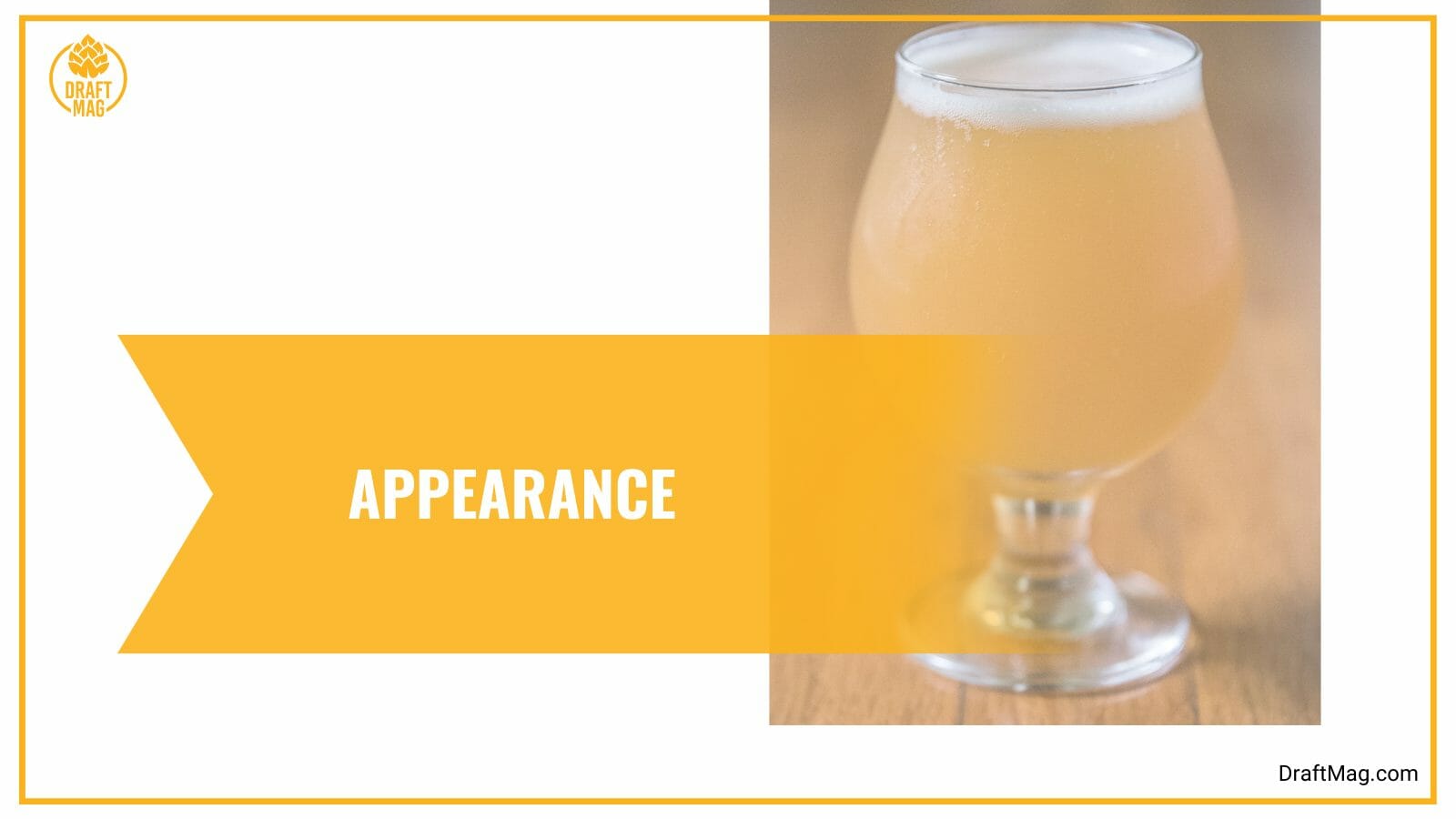 On top of the beer is a white, fluffy head that has fantastic retention. As it slowly dissipates, it leaves a lot of lacing against the glass.
– Aroma 
Bring the IPA to your nose, and you will perceive a balanced aroma of citrusy hops, tropical fruits, and bready malts. The beer has a deeply juicy and slightly sweet aroma, with citrus at the forefront. 
You will also notice a bit of apricot in the aroma as the beer warms up, with a lot of tropical hops that remain. The bready malts are balanced out with subtle hints of pine and grass. 
– Mouthfeel 
As for the mouthfeel, the beer has a medium body that feels smooth and resinous on your palate. The body is easy to sip and swallow despite the alcohol content, and it finishes dry and fruity with a lot of hops.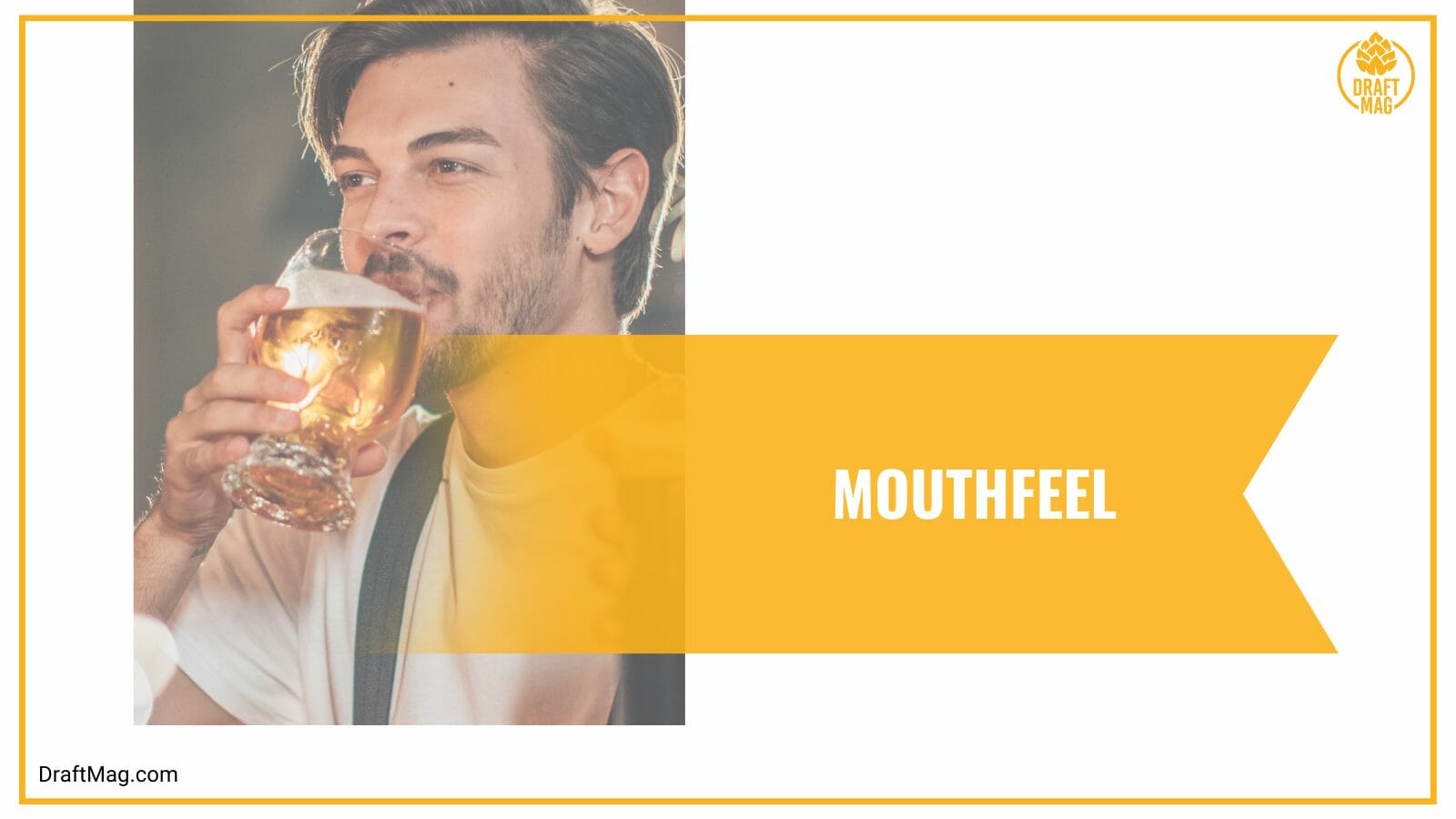 There is moderate carbonation which you might not have noticed in the appearance due to the haziness. It offers a slightly fizzy feeling on your tongue, with a crisp and smooth body that finishes clean. 
– Flavor 
The taste of the IPA follows the aroma closely, with a balance of malts, hops, and tropical fruits from start to finish. There is plenty of citruses, pine, and grapefruit in the flavor, and it generally tastes resin-like with a consistent hint of malty sweetness. It eventually finishes with a lingering bitterness.
The taste of the beer is quite complex, with the big juicy hops and the pine presenting itself first. Towards the middle, you begin to taste more tropical fruits, and there is a mild citrus bitterness at the end with hints of grapefruits. You might notice a slightly dank element and bits of burnt apricot. The bready malts and caramel remain as a solid base.
– Food Pairings
The bitter and hoppy flavor of the IPA means that you should pair it with similarly strong foods so that you don't overwhelm the dish or the beer. Try out spicy dishes like burgers or tacos with barbeque sauce. The beer can act as a palate cleanser for Indian curry, spicy pasta or noodles, or Mexican cuisine.
With the soft and crisp body of the hazy IPA, you should contrast it with crunchier dishes like fried chicken, crisp potato salad, chips, or corn on the cob. The beer goes great with a ribeye steak, as it complements the fattiness of the cut. 
For your cheese pairing, you can have the beer with high-fat content cheeses, as the hoppy bitterness cuts through the fat. You can also enjoy the beer with blue cheese and spicy pepper cheese. For dessert, opt for something fruity like a blood orange sorbet or a fruit bowl. 
Ingredients 
The double dry-hopped IPA is made with malts, hops, and yeast and follows a dry hopping process. The malts used to make the beer include Munich malts, two-row pale malts, and wheat malts. This gives you a sweet base of bready malts and caramel.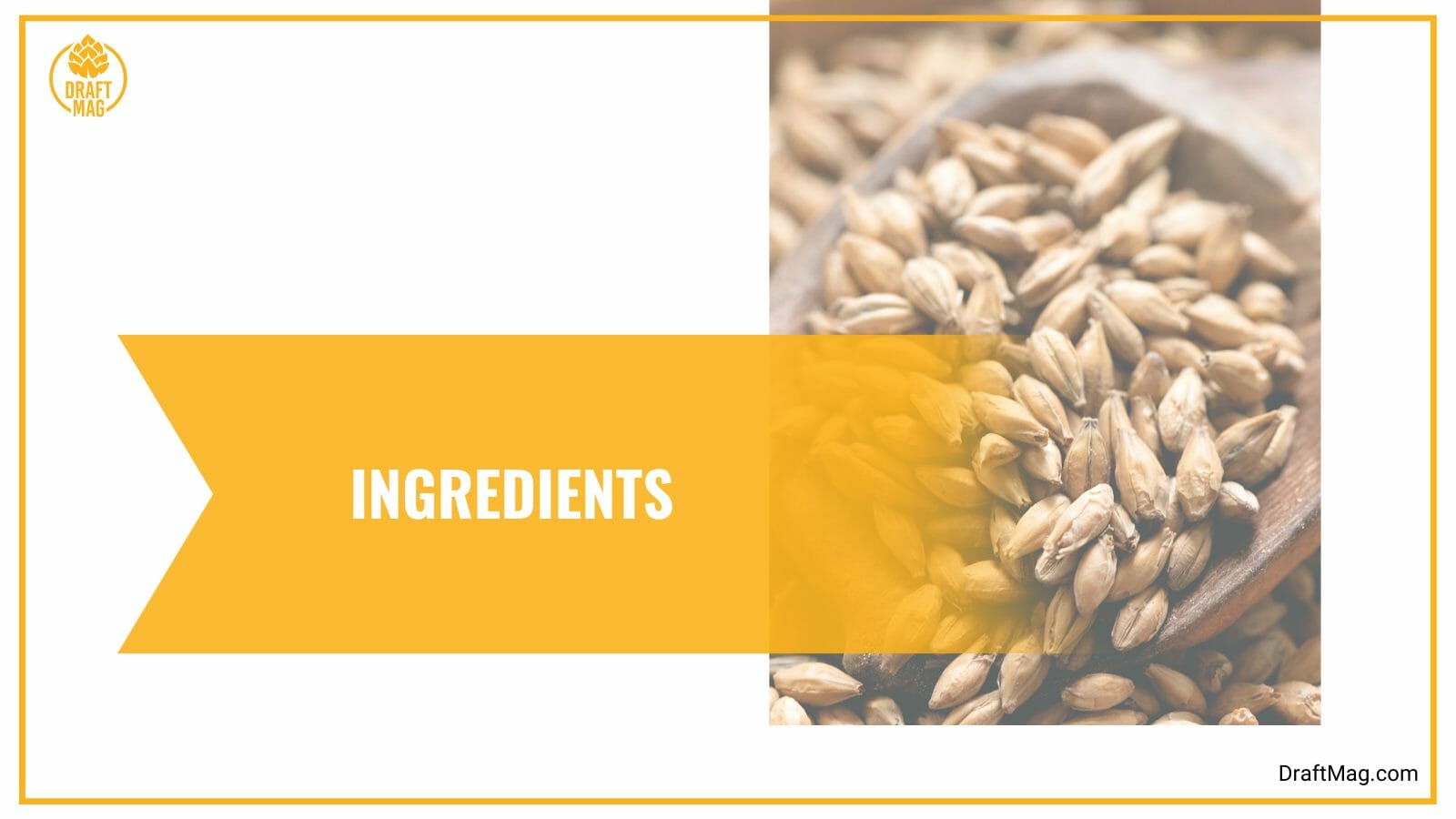 As for the hops used to make the beer, they include Amarillo, Chinook, Herkules, Mosaic, Citra, Comet, Idaho 7, and Polaris. It is also brewed with ale yeast. Aside from the usual ingredients, the beer is made with lupulin powder, which is found in the female hop plant. 
Nutrition Facts 
The ale features an alcohol content of 7.7 percent, which is properly masked throughout the flavor. It also has 45 bitterness units, which is expected from the beer style. The bitterness is not overwhelming and is quite pleasant. It has an original gravity of 18.2 while the finishing gravity is 3.3. 
The beer contains 238 calories in every 12 ounces, which is a very high level but expected from the style. It also has 19 grams of carbohydrates and 3 grams of protein. Before drinking the beer, consider checking your daily dietary requirements. It is not ideal for those on a keto diet due to the high carbs content. 
History 
The IPA is made by Sierra Nevada Brewing and was released in 2021. It is one of the popular beers from the brewery but is a seasonal beer that is only available through March. The beer gained its popularity from the fact that it was made with a lot of lupulin powder to create a sense of hop aromas and flavors.
The brewery was founded in 1979 by Ken Grossman and Paul Camusi, who were expanding their homebrewing hobby. Today, it is one of the most well-known breweries in the country, known first and foremost for its Pale Ale. 
Conclusion
If you're interested in a new type of IPA, this ale is an ideal choice. Here's a rundown of the beer review:
Powder Day IPA is an American IPA with a 7.7 percent alcohol content.
The beer has flavors and aromas of citrus, oranges, grapefruit, melon, stone fruit, bready malts, caramel, pine, and tropical fruits.
It is made with malts, hops, and yeast, especially lupulin powder.
The beer is best served in a chalice or bulbous glass at 45 degrees Fahrenheit serving temperature.
Pair it with spicy foods, crunchy foods, ribeye, high-fat content cheeses, and a fruity dessert.
You can look out for the IPA whenever it's on tap or purchase it at stores near you.