Best Beer With Pizza: How To Enjoy the Best Ever Food Combo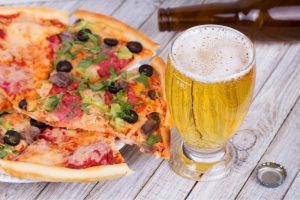 The best beer with pizza can help you create one of the best pairings for your night out if you want something delicious to eat. Although pizza and beer are usually enjoyed together, you might have asked yourself what the best combo is. This is because there are so many types of beer and even more types of pizza.
While pizza is widely enjoyed by pretty much everyone, beer is a delicious drink that brings people together – giving you a fantastic combination. In this guide, we will explore the best beer and pizza pairings.
Why Are Pizza and Beer a Great Combo?
The most well-known food pairing title is beer and pizza, but why are these two so good together? There are many reasons why people love to enjoy pizza and beer together. These two foods are fun to have and widely appreciated both in gatherings of friends and family and as a special treat that you have alone at night. So, if you put them both together, that's double the fun.
But these two foods are also great together because of their tastes. The two would contrast and enhance the flavors of each other when you eat, and the pairing is even better with the increase in popularity of craft beers. Now, it's not always easy to find a delicious craft beer that matches your favorite type of pizza — and that's why you need our suggestions
Best Beer for Pizza Pairings
In this article, we have matched the most requested pizzas with the beer that best compliments their taste. Trust our experts, and you will have an unforgettable pizza night!
– Cheese Pizza and Blonde Ale
Although cheese pizza is pretty simple, it is also one of the best pizzas, and it's hard to find a lousy one. This simple type of pizza would go perfectly with a light, crisp brew like blonde ale. The crispy flavor would go through the fats of the cheese smoothly and clean your palate. These two don't compete for taste but give a good balance on your tongue instead.
– Mushroom & Spinach Pizza and Stout
If you enjoy mushroom toppings, then stout is the best beer to go with pizza. Mushroom and spinach pizzas come with a savory and meaty flavor that flows well with the sweet taste of stout. Plus, the mushroom has an earthy flavor while stout is on the sturdy side, which is a good combination. If you want even more sweetness, you can add sausages and onions to your pizza for the perfect balance.
– Vegetable Pizza and Lagers
Fans of veggie pizzas can enjoy each slice with a mug of lager, regardless of the vegetables you throw on it. From olives and spinach to bell peppers and onions, old-fashioned lager is usually the best beer to drink with pizza with vegetable toppings. Lager is less bitter than other beers and has a lower IBU, so it doesn't overshadow the diverse taste of veggie pizzas. Plus, it gives you a refreshing taste by enhancing the salts in the cheese.
– Pepperoni Pizza and Pale Ale
Pepperoni is one of the most ordered toppings in America, and the beer to go with pizza and pepperoni is a pale ale. Pale ale has a malty flavor that enhances the pizza's tomato sauce without taking the attention away from the real star: pepperoni.
– Hawaiian Pizza and Fruity Beers
Hawaiian Pizza gives you a delicious combination of smoky bacon and tart pineapple, and there's no better way to enjoy this than with more fruits. Fruity beers would pair perfectly with the bacon part of the pizza and clash with the sweetness of pineapple. You can go for the flavor you prefer with your beer, but why not daring with some tropical fruits?
– Pizza With Heavy Toppings and India Pale Ale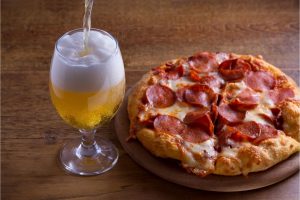 We can't leave out those with heavy toppings when looking at good beer with pizza. Every pizza place has the option of having a lot of toppings like pepperoni, mushrooms, onions, sausage, peppers, olives, and more.
And with all these flavors, you can enjoy this type of pizza best with an India Pale Ale. The IPA beer has an intensely bitter taste and goes well with the bright flavors of the pizza, especially when you add extra meat.
– Margherita and Unfiltered Lager
Another beer and pizza pairing is a typical Margherita topping with unfiltered lager. Margherita offers a fantastic combination of sweet sauce, charred crust, and irresistible cheese. This combo meets the bready flavor of an unfiltered lager halfway, so you can taste both without any of the flavors being overshadowed.
– Mushroom and English Ale
Apart from stout, mushroom pizzas also go deliciously well with English ale. English ale would give you a subtle earthy flavor, while mushroom pizzas are also earthy, but with a simple taste. The combination is sober yet delicious.
– Meat and Dark Smoked Beer
Dark smoked beer is a perfect fit if you enjoy your pizza with meat, from chicken and beef to barbeque pizzas. Dark smoked beer gives any meat topping an authentic taste, especially when the beer has meaty aromas of roast, char, and bacon. It's also a good beer with pizza at barbecue parties.
– Anchovy and Citrus Pale Ale
Anchovy pizzas have an intense flavor, and if you want to refresh the taste on your tongue after each bite, then pale citrus ale would do the trick. Citrusy pale ale combines bitterness and spiciness that goes with the flavor of anchovy.
– Seafood and Berliner Weiss
Although seafood pizza isn't so famous, it's moving up the ranks among pizza lovers. The best beer for pizza with seafood toppings is Berliner Weiss, as it features a heavy lemon taste and a lot of acidity.
– Sausage & Peppers and Copper Lagers
If you enjoy a good sausage and peppers pizza, then you would want it better with a refreshing cup of copper lager. This beer gives you delicious caramel hints that go well with the sausages but gives you a clean palate, so the taste of peppers does not get overwhelming.
– Vegetarian Pizza and Dark Honey Ale
Vegetarians can deliciously pair their pizzas with dark honey ale. Vegetarian pizzas give you an earthy, rich flavor of vegetables, which goes well with the hints of molasses and honey that come with drinking dark honey ale. Dark honey ale also has a dry finish.
– Italian Meatballs and Indian Pale Ale
The best beer with pizza with Italian meatballs topping is an India Pale Ale. This unique type of pizza goes well with the fruity and piney notes of the IPA. The intense taste goes well with the spiciness of the meatballs.
– Olives and Saison Dupont
Those getting olive pizzas can pair it with Saison Dupont beer, with its soft and earthy notes. The Saison Dupont beer gives you a spicy and monotone flavor profile, which won't affect the taste of your olives.
– Sausage, Peppers & Onion Deep Dish and Belgian Strong Ale
If you like complex pizzas with toppings like sausages, onions and peppers, then you can pair it with Belgium's strong ale. The vibrant yeast hint makes this beer perfect for the savoury ingredients on your pizza.
Tips for Choosing Beer and Pizza Pairs
Although you can easily choose one from our top beer and pizza pairs, you can use these tips to get the best out of this food if you're making your pizza or craft beer.
– Light Beers Go With Mild Pizza Flavors
If you're having a delicious crisp pizza with cheese, veggies, mushrooms, pineapple and bacon, and other mild flavors, it's best to go with light beers. Light beers like pale ale and sour beer would go well with simple pizzas. These would give you a fantastic combination of flavors. If you choose stronger beers, they might overshadow the sober taste of pizzas.
– Robust Beers Go With Diverse Pizza Flavors
On the other hand, if you have hearty pizzas with a lot of meat or heavy toppings, you can pair them with robust and heavier beers. With rich flavors paired together, no taste overshadows the other so that you can enjoy each one. IPA beers are usually the best choice for hearty pizzas, so you can go for this if you have trouble picking. They are bitterer than other beers and bring out the savory flavors of cheese and meat.
– When You Need All-Round Choices
If your pizza doesn't fit perfectly into any of the categories we have explored in this guide; you might need a general beer choice. Lagers and pilsner beers are fantastic for many pizza types, especially homemade pizza. These types of beers go with the two main ingredients of pizzas: cheese and tomato sauce.
FAQ
What beer do Italians drink with pizza?
Peroni Nastro Azzurro is a popular Italian beer to pair with pizza. Its light body and crisp taste complement the rich flavors of pizza.
What is the best Mexican beer with pizza?
Mexican beer like Corona or Dos Equis can be a good choice to pair with pizza. Their light and refreshing taste can balance the heavy flavors of pizza.
What is drunk pizza?
Drunk pizza is a term used to describe the type of pizza people tend to crave after a night of drinking. It's usually greasy, cheesy, and loaded with toppings.
Conclusion: Enjoy Your Pizzas and Beer with the Best Pairings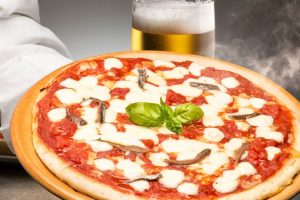 You can take this as a beginner's guide to beer and pizza pairings and make up your pairings along the way. Remember that everyone has different palates and opinions, so some of the pairings on this guide might not fit your needs. With this as a reference, you can enjoy the best food pairing out there.